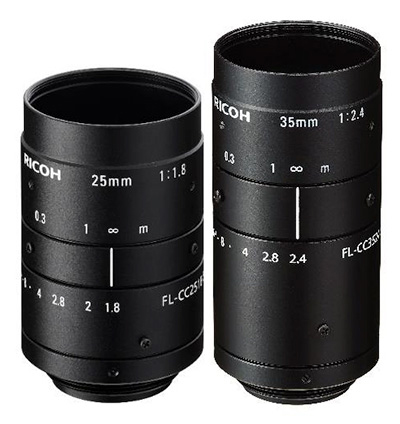 In August 2019, RICOH Industrial Solutions Inc. launched a 35mm 5MX lens, expanding their already-existing line up of 12, 16, and 25mm lenses. The newly released 35mm RICOH c-mount lens uses JIIA (Japan Industrial Imaging Association) lens standards that meet S Rank (Best Performance Class) criteria. This new lens represents another exceptional innovation for RICOH and promises real versatility.
One of the most impressive features of this 35mm 5MX lens is how it takes sharp, high contrast, high-resolution images at all working distances. It is designed for 5 MP (megapixel) cameras, but its optical performance is so superior that it equals and surpasses some companies' 12 MP lenses.
The RICOH c-mount 35mm 5MX lens has a resolution of over 147 lp/mm from the center to the periphery as well as high MTF (Modulation Transfer Function), and high sharpness in every condition and at any distance from the center of the image. Even images from the periphery can be used for precise measurement and imaging, making it an excellent choice for industrial testing and inspection applications.
Also, the lens uses a floating mechanism in its focusing system to assist in capturing high resolution and low distortion images from a range of distances. The lens keeps TV distortion to less than 0.1% and can be used to capture low distortion images over the entire image measurement field.
The c-mount 35mm 5MX lens is especially useful in applications that require high resolution over the entire image. From 0.1m to infinity, the lens will maintain a sharp picture over the entire screen area.
Applications and Specifications
The RICOH c-mount lens quality meets machine vision market standards for stability, high inspection, and detection precision. Other potential applications include pharmaceutical, biomedical, document scanning, barcode inspection, LCD inspection, and high-end part inspection.
The RICOH c-mount 35mm 5MX lens has the following specifications, details, and features.
100 gram weight
0.1m minimum object distance
Φ33×65.5mm dimensions
14.33m back focal length
1:2.4 maximum aperture ratio
2/3" format size
30.5 P=0.5mm filter size
Focus and iris lock screw
Over 5 megapixel resolution
With such versatility and excellent specifications, it's easy to see why the new RICOH lens is one of the best products of its kind on the market today.
In addition to this new product, Phase 1 Technology provides a wide selection of c-mount lenses from RICOH. View our RICOH c-mount lenses section for more information.