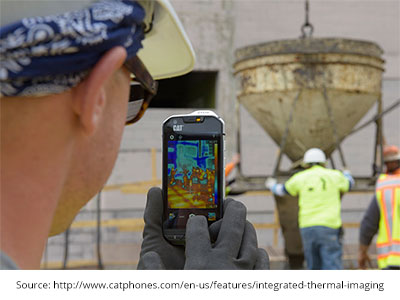 In recent years, FLIR has positioned itself as the world leader in compact thermal imaging technology. Its machine vision devices are used in a wide range of professional applications. They can be found on agricultural, industrial, and law enforcement drones, for example.
Now, they'll be in the palm of consumers' hands thanks to the Cat S60 smartphone.
"Cat" Becomes the First-Ever Smartphone with Thermal Imaging Integration
The Cat S60, by Southwest Technology Solutions, will be innovative in more ways than one. However, its embedded thermal imaging has already captured attention from industry experts, hobbyists, and the average consumer. It will be both versatile and fun to use.
Intended mainly for the United Kingdom market, The Cat S60 will be a boon to those who like to take a hands-on approach to maintaining their homes. The state of the art FLIR thermal camera will provide a wide range of totally new smartphone functionality.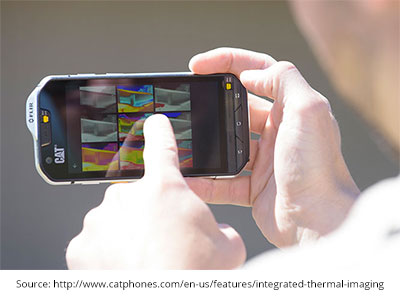 Some potential applications include:
Improving energy efficiency by recognizing heat loss around doors and windows;
Noticing missing insulation and moisture before more serious issues can develop;
Recognizing when household appliances or wires are in danger of overheating;
Finding leaks or mechanical issues in large-scale heating and cooling systems.
Until recently, these functions and many more were the exclusive domain of high-priced professionals. Now, anyone and everyone can be empowered with a FLIR thermal camera right aboard their favorite smartphone.
A FLIR thermal camera visualizes heat and heat differences in the environment – the basis of "night vision." Although the camera on the CAT S60 is not quite that powerful, it is capable of seeing through obscurants such as smoke. Its effective range is nearly 100 feet.
If the Cat S60 is successful, we might just start to encounter a FLIR thermal camera on a wider range of smartphones.