Phase 1 Vision has recently published a technical article that takes a close look at Enhancing Situational Awareness with Fire & Rescue Drones. Acknowledging the inherent complications and costs of Fire & Rescue missions, the article focuses on vision technology designed for these highly specialized unmanned aerial vehicle (UAV) and unmanned aerial system (UAS) applications.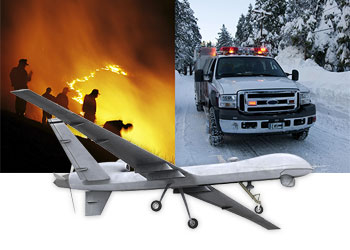 To give you a bit of background, drones are winning favor for their cost-saving and far-reaching capabilities to inform command centers and field crews by delivering real-time information through a live video steam. Faced with a myriad of dangers and difficulties, many of which are time-sensitive and life-threatening to ground crews and victims, command centers are able to use the information from the drone to assess the situation, locate victims, and strategically deploy resources to affected areas.

The article covers a lot of topics important to designers, integrators, and users of drones for fire and rescue applications, including:
Matching Camera to Requirements;
Sony's game changing Exmor & Exmor R CMOS sensor technology;
Challenges and of streaming data;
Challenges of stabilization;
Challenges of variable lighting conditions;
And the qualities of cameras that meet the demands of a growing fire & rescue UAV market.
Check it out. You can read the article online in the Markets & Applications section of the Phase 1 Technology website.