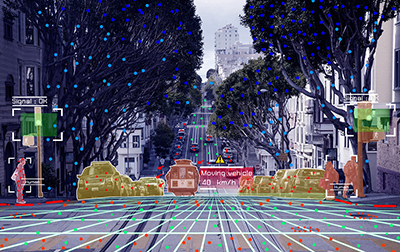 The automotive, ride-sharing, and taxi industries are just a few taking notice of autonomous vehicles and assisted technologies. Automotive companies have developed innovative systems for their Advanced Driver Assistance Systems (ADAS) by using new and affordable sensors.
LiDAR sensors are among the most innovative and efficient technologies being used on autonomous vehicles. LiDAR offers precise object detection and recognition capabilities for advanced driver assistance systems. When combined, machine vision cameras, radar sensors, and LiDAR sensors can create safe automated driving experiences.
How LiDAR Works
LiDAR (light imaging, detection, and ranging) sensors emit invisible laser light to scan and detect objects. The newest solid-state LiDAR sensors are installed in the front, rear, and sides of an autonomous vehicle. All components of the system, including the emitter, receiver, and processor are integrated on a single chip.
LiDAR sensors send a burst of thousands of laser pulses per second with needing to adjust the direction of the transmitter. The laser light is emitted in specific patterns. When the laser beams collide with objects in the way, they reflect back from the objects to the LiDAR sensor's receiver.
The LiDAR sensor's processor fetches data constantly and uses complex algorithms to produce a real-time, 3D map of the objects detected. These images are often displayed and the ADAS system can also use this data to manage speed and steering control to navigate, maneuver, or stop the vehicle if needed.
Newsight Imaging Area Scan CMOS Sensors
Newsight Imaging offers affordable CMOS image sensor-based chips that provide utmost sensitivity, performance, and accuracy. Newsight's LiDAR sensor is cost effective and is currently unmatched by competitors in the market. Newsight's sensors have a highly flexible design and can be customized for purpose-built applications.
Newsight's LiDAR sensor boasts a high frame rate and its processing capabilities offer impressive performance. It also offers high sensitivity and dynamic range unmatched by the competition. Its low power consumption rate makes it ideal for mobile systems. It easily integrates with SOC (system on a chip) modules. Its resolution is VGA or higher and doesn't contain any moving parts or micro-electro-mechanical systems.
These sensors from Newsight shine in low cost, high volume applications. Several innovative features make these new sensors stand out. V-LiDAR is a cutting-edge 3D pulsed LiDAR system and eTOF (enhanced time of flight) bridges the gap between short distance iTOF (indirect time of flight) and the long-distance requirements of autonomous vehicle sensors.
To find the right sensor solution for your application, read more and speak with a Phase 1 Technology product specialist about Newsight Imaging CMOS sensors and Evaluation Board.