As another board level, area scan model, the PixeLINK PL-B623 microscope camera draws on many of the same strengths as the previous model in our series, the PL-A662. Yet, with uniquely high speed and performance, this microscope camera is a veritable power tool for capturing vividly detailed, professional-quality microscopic images.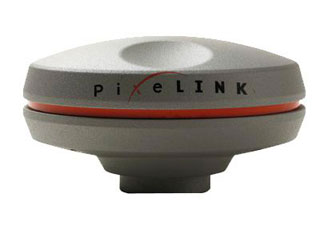 Beyond basics

The PL-B623 relies upon a color CMOS sensor with the high sensitivity that a rolling shutter enables. However, its 1/2-type 3.0 megapixel sensor is more advanced than other models, with a 3.2 µm pixel pitch, 60 dB dynamic range, and the capacity for up to 93 frames per second at VGA resolution of 640 x 480 or 12 frames per second at a vivid 2048 x 1536 resolution. The PL-B623 is also available in kit form with various interfaces, though a USB 2 connection is the default for individual models.

Advanced features

As with the other cameras in our series, the powerful B623 includes PixeLINK's µScope software solution that provides all the benefits of higher profile imaging applications at no extra cost. At base, this includes annotation, live video previews, and other capturing and processing features. A free download of Capture OEM further enhances this easy-to use camera with greater capabilities for capturing, saving, and even setting Regions of Interests (ROI).

The PL-B623 provides high speed and performance that make it a powerful and useful member of your microscopy toolkit, especially for life sciences applications. In our next post, we turn to the innovative, high-speed PL-B871.