In terms of microscopy systems, the PixeLINK PL-D684 provides the excellence in microscope camera performance that is increasingly essential for applications in the life sciences. Its 4/5-type, 4.2 megapixel CMOS sensor and innovative feature set, in particular, make this camera the ideal tool for capturing highly detailed, publication-quality images.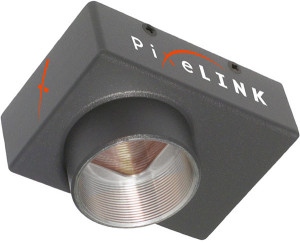 Hard-hitting hardware

This microscope camera utilizes a CMOS sensor that provides 2048 x 2048 resolution images at 90 frames per second, with the Global Shutter providing a 4.8 µm pixel pitch. On top of all that, the PL-D684 incorporates a comprehensive range of image processing and enhancement features, including various morphology filters and a wide range of manual functions. It also features a C-Mount lens and USB3 Vision standard interfacing for maximum flexibility.

Stunning software

PixeLINK µScope Standard software also make this model a powerful tool for microscopic applications through innovative image measurement and processing. Auto and Semi-Auto Calibration specifically allows users to more accurately and speedily calculate pixels-per-unit values. Line Profiling also makes it possible to set line intensity values through the use of single, multiple, parallel, and polyline commands; profile data can then be easily exported for use in Microsoft® Excel.

While it's often said that a bad workman blames his tools, a good workman recognizes the importance of having the best tools possible. Its high quality foundation and feature set makes the PL-D684 camera a strong option for contemporary applications in the life sciences.

Next, we'll take a closer look at the high performance, low cost PixeLINK PL-E422C model camera.