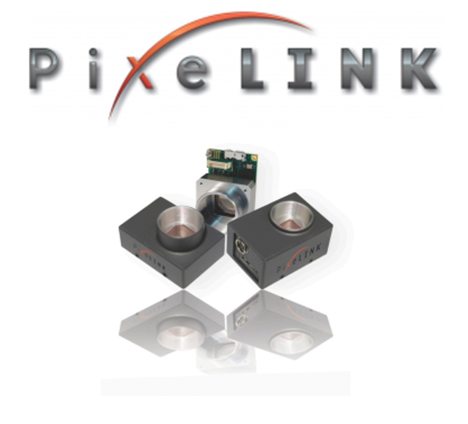 The PL-D755 USB 3.0 machine vision camera from Pixelink is a premier vision solution for the industrial marketplace. Designed for flexible integration into a wide range of settings, this camera can tackle tough machine vision applications.
Based on the Sony IMX250 CMOS global shutter sensor, the PL-D755 features a 2/3" optical format with 5-megapixel resolution at 81 frames per second. An external hardware trigger and two general-purpose outputs give users of this camera the flexibility to synchronize imaging with their own processes and illumination.
PL-D755: Leveraging the Benefits of Liquid Lenses
The PL-D755 comes in many different configurations, including board level, enclosed, and color or monochrome. One of the most popular configurations is combining the PL-D755 and its extensive pre-image processing capabilities with liquid lenses for autofocus.
Liquid lenses allow extremely rapid auto focus with no moving parts, making cameras that leverage this technology rugged enough to handle industrial environments and powerful enough to operate in extremely fast settings. Additionally, most lenses have a service life of a few hundred thousand cycles while liquid lenses have proven to perform over 100 million cycles without a loss in performance. Liquid lenses help make the PL-D755 machine vision camera a reliable, durable solution for demanding environments.
Technical Features of the PL-D755 Machine Vision Camera
The PL-D755 machine vision camera from Pixelink leverages the high-speed technology of CMOS sensors with the high data throughput of USB 3.0 technology to create an imaging solution that performs in fast applications.
The 5.01-megapixel sensor from Sony has 12-bit or 8-bit digitization, with a flexible region of interest, further promoting this camera's ability to adapt to a wide range of environments. For biometric, medical, processing, and inspection applications, the PL-D755 camera is a high-performance imaging solution.
The PL-D755 machine vision camera from Pixelink brings quality imaging capabilities to wide range of industrial tasks. Featuring great amounts of flexibility and durability for tough applications, the PL-D755 is one of the industry's premier machine vision solutions.
For more information, continue reading about the technical features of the Pixelink PL-D755 machine vision camera from Phase 1 Technology.