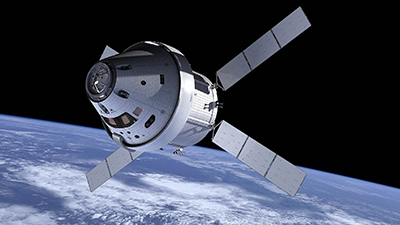 NASA plans to build a human spacecraft that will be used in deep space missions and they've chosen Pixelink to provide the imaging system. The Orion missions will take humans farther than they've ever gone before, including Mars.
Pixelink Joins the Orion Missions
The Orion missions, along with private investment, will put the US and NASA in a position to solve the mysteries of space. Orion is an exploration vehicle that will carry a crew into space, offer abort capabilities, sustain astronauts during missions, and provide safe re-entry for return from deep space.
Pixelink will work with Deep Space Systems to design an optical navigation system for Orion. Deep Space Systems will repackage, ruggedize, and test the Pixelink cameras to make sure that each unit can withstand spaceflight, including harsh vibrations, extreme temperature changes, radiation, and pressure changes.
This system is what future astronauts will use to adjust the flight path for safe re-entry by imaging the precise position of the Earth and the Moon. This is important in case the spacecraft loses communication with Earth.
Pixelink cameras will also capture images of launch and re-entry events. Tasks like heat-shield inspection will help keep Orion safe from the heat generated when it re-enters the Earth's atmosphere. Understandably, Pixelink's camera technology was chosen because it's the best solution for the demanding and rigid performance specs that the Orion project needed.
More About Pixelink
Navitar, a company that designs, develops and manufactures innovative optical solutions for clients and enterprises across the globe, acquired Pixelink in 2017. Their goal in doing so was to provide fully integrated end-to-end lens and camera imaging solutions to customers worldwide.
Pixelink has released a line of industrial cameras since then that is based on Sony's "IMX" model CMOS sensors. Users can also add an external hardware trigger and two general-purpose outputs. The outputs let users synchronize the camera with specific processes and illumination sources.
Navitar has also released a lens and camera "coupling program." This offers customers an imaging system that's seamlessly integrated with no compromise on image quality. This system pairs Navitar's high-resolution imaging lenses with Pixelink's CMOS industrial cameras.
The imaging system can be either a motorized or a fixed configuration with multiple sensor formats to choose from. Pixelink's imaging software offers integrated control of the zoom and focus of Navitar motorized lenses and is included with every solution. Pixelink Capture includes metrology software tools for on-screen measurement of length, area, and pixel location.
Speak with a Phase 1 Technology industrial camera and vision system component specialist for help finding the right Pixelink CMOS or CCD camera for your application.