Phase 1 Technology is proud to be a sponsor of AIA's first machine vision conference in Canada and we hope we will see you there!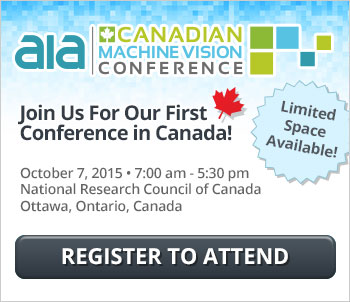 The full-day AIA Canadian Machine Vision Conference takes place on October 7th, 2015 at the National Research Council of Canada in Ottawa, Ontario. The conference benefits engineering and manufacturing personnel looking to reduce costs, improve quality, and advance productivity while increasing flexibility and innovation. Experienced vision users seeking new applications and prospective users investigating the possibilities for their companies will also benefit from the information and networking opportunities.

Conference topics include:
3D Vision
Advances in Camera Technology
Cutting Edge Vision Research
'Build vs. Buy' for Machine Vision
Smart Cameras & Vision Sensors
Advances in Machine Learning
How Autofocus Changes the Paradigm for Camera Technology
The Latest on Machine Vision Interface Standards
Choosing the Right Inspection Technique and Technology
In addition to the valuable insight you'll gain from industry experts, cutting edge vision research, and real-world examples from system integrators and users, you'll also get great networking opportunities and a free tour of the National Research Council of Canada's cutting edge imaging laboratories and Photonics Fabrication Center.

You won't want to miss this premiere event! Space is limited so register now! You'll get all the info you need here: http://www.visiononline.org/canadian-machine-vision-conference.

Be sure to come and say hello to us!