Einstein noted that "Once we accept our limits, we go beyond them." The new Ricoh/Pentax EV-G200 GigE area scan camera goes beyond the limits, providing over three times the standard depth of field (The range of in-focus distance in front of the lens) - even up to five times, depending on the subject pattern. The result is the ability to capture multiple subjects at different heights and depths in a single, high-resolution shot without making the image darker.

Specialized Processing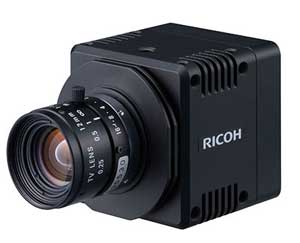 Equipped with a 1/1.8" interline UXGA progressive scan CCD sensor, the EV-G200 achieves Extended Depth of Field (EDoF) when paired with the EL-HC1255 fixed lens. Together, they deliver 2 Megapixel resolution up to 1624 x 1236 along with high-speed frame rates from 15 to 90 frames per second. This ensures focus and resolution for subjects over a range of distances, from tiny text to large crowds and even objects in motion, without having to refocus or re-shoot.

Pushing Limits

The EV-G200 also includes a built-in image processor and new algorithm that deliver enhanced depth of field without affecting focal length or working distance. The EV-G200's Areas of Interest mode also minimizes reading and transfer time and maximizes inspection speed by only scanning necessary regions. Highly adaptable, the camera offers additional aperture and lens options to accommodate application needs.

The new Ricoh EV-G200 is ideal for inspection applications such as those of bottlers, printed circuit board makers, pharmaceutical manufacturers, gemologists, and shippers. This GigE camera's Extended Depth of Field makes it exceptionally ideal for low-light and other challenging inspection conditions that once bound the limits of imaging performance.