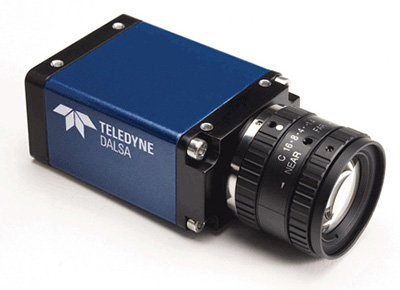 As part of an under-vehicle surveillance system, the Dalsa Genie Camera can be used to inspect the underside of vehicles or other equipment for explosives, contraband, and even hidden compartments that shouldn't be there, even while the vehicle is in motion. The system's sensors can adjust the image according to the speed of the vehicle, enabling the capture of a complete composite underbody image of any vehicle passing over the system at speeds of 1 to 75 km/h. (<1 to 46.6 mph).)
The rugged, versatile camera is designed to operate both day and night. The system can store 500,000 images or more. And with frame rates of 500 fps, 700 fps, 900 fps, and 1100 fps, it can be used for stopped, slow, and relatively fast-moving traffic.
Dalsa Genie cameras also have a small form factor that allows them to be used in low-profile, in-ground hardware. Their compact size ensures compatibility with a wide selection of lenses in these tight spaces.
GigE Vision Interface Standard
The Genie Camera is often integrated into systems that perform robust inspection tasks, with under-vehicle inspection being a relatively new application. What makes the integration effective is the GigE Vision interface standard, introduced in 2006 for high-performance industrial cameras. Dalsa is a founding member of the GigE Vision Standard Development Committee.
GigE Vision is based on the Internet Protocol (IP) standard and provides a framework for high-speed data transmission over Ethernet networks. Facilitating easy integration of software and hardware, GigE Vision further expand the Dalsa Genie camera series's range of potential applications.
For more information and to discuss the Dalsa Genie Cameras for your application, speak with the vision experts at Phase 1 Technology.