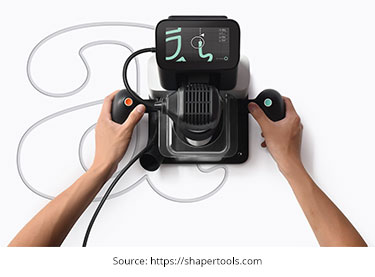 Manufacturers are finding new and exciting ways to update the capabilities of existing technology using machine vision. Through the combined power of machine vision and "mixed reality," the new Shaper Origin power tool is helping professionals and enthusiasts achieve perfect cuts.
Mixed reality refers to enhancing human senses with a mix of augmented reality and true virtual reality. Physical and digital data are combined – think, for example, of any TV show or movie where a robotic character sees a data "overlay" on top of the real world.
The Shaper Origin blends this concept with advanced machine vision capabilities.
The result is a tool that can allow users of many different skill levels to make accurate cuts in various types of materials – carbon fiber, wood, and several kinds of metal.
The Shaper Origin Helps You Plan and Cut Like Never Before
Origin uses its machine vision features to guide and work with the user. For example, you can stop making a cut in mid-stream and return to it at any time: The device remembers its exact position.
The centerpiece of the system is a special tape that keeps the visual marker system oriented in relation to the material being cut. Once the tape is laid, the surface is scanned, creating a map. Augmented reality allows you to place your design, facilitating unprecedented accuracy.
The Shaper's precision motors ensure cut execution follows the original design precisely.
The whole thing comes with its own augmented reality headset. The headset is powered by a holographic processing unit (HPU) with 24 individual digital signal processing cores. Each has 1 gigabyte of fast, efficient, DDR3 RAM.
A 14-nanometer Intel CPU runs Windows 10 side-by-side with HPU operations.
The Shaper Origin is a great example of how innovative manufacturers are using machine vision technology to improve tools that most of us are already familiar with.
Looking for a camera or other machine vision component for your innovative product design? Talk with the experts at Phase1Vision.com.