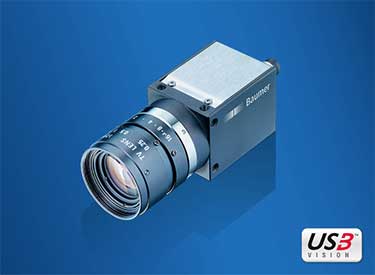 The smaller a camera is, the more versatile it can be. However, many compact camera models end up sacrificing performance to achieve a trimmer form factor. This makes them less suitable for intensive machine vision applications.
The Baumer CX series is striking a new balance between size and performance with the smallest 12 megapixel global shutter CMOS camera available today. With new Baumer CX models entering the marketplace, powerful industrial cameras come in remarkably small packages.
Some notable features include:
On-board Sony

Pregius

IMX253

sensor;
Compact size measuring just

29x29

millimeters;
Convenient USB 3.0 interface;

4096x3000

pixel resolution;
Frame rates up to 31 images per second.
The Fast-Growing Baumer CX Line Stands Out for its Performance and Versatility
Baumer CX cameras are designed to be ideal for industrial applications coupling high fidelity and limited operating footprint. Surface inspection, measuring in 2D and 3D environments, package inspection, and traffic monitoring are all possible.
These cameras offer a great deal of convenience and flexibility for operators thanks to the M3 mounts on each side of the housing. With robust integrated image memory, image evaluation is a snap even under long system operating times.
Though not intended as ruggedized products, the cameras easily endure tough operating environments up to 149 degrees Fahrenheit. An on-board temperature sensor makes it easy to manage quality control even in harsh locations.
As a plug and play device with reliable USB functionality, Baumer CX cameras centralize data operations to a single cable. That makes it easy to keep equipment organized while maintaining excellent data transmission rates.
With the ultra-compact Baumer CX camera line, machine vision professionals are experiencing a new way to capture and manage images for all the most rigorous applications.
To find out more about the complete series of Baumer CX cameras, just visit this page.