American artist Andy Warhol once noted that "They always say time changes things, but you actually have to change them yourself." With the new H100S and H100V PTZ camera models, Sony continues to adapt its diverse EVI line of robotic cameras to changing technology needs. These high-definition models provide versatile, high-quality color imaging for a wide range of remote imaging applications.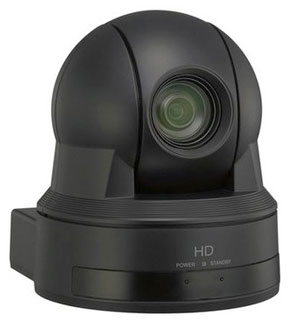 Defining Clarity

Both cameras deliver full, native high-definition color imaging with the powerful 1/2.8-type Exmor CMOS sensor. Their 20x optical zoom lenses, with an additional 12x digital zoom beyond the rest of the EVI line-up, allows for adaptation to diverse imaging requirements. Each PTZ camera mainly differs in output, with the EVI-H100s using HD, HD-SDI, and SD via VBS, while the EVI-H100V offers a DVI interface with digital RGB and an analog component.

Remote Flexibility

Sony's new EVI H series PTZ cameras share a compact design that ensures smooth and unobtrusive operation, with an E-flip function for desktop and ceiling-mounting. Settings and pan/tilt/zoom functionality is controlled remotely with the RS-232C/RS-422 interface protocol, which ensures high-speed delivery and easy connectivity across many peripherals.

In short, the new PTZ camera models of Sony's EVI H Series enhance our ability to achieve maximum imaging quality under challenging conditions through a fusion of sophisticated processing and extensive exposure control. Delivering a smart, stylish, and flexible design, the EVI-H100S and EVI-H100V transform remote monitoring, video conferencing, distance learning, and a host of other applications.