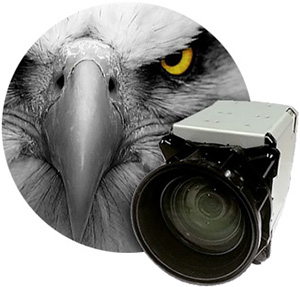 Some machine vision applications, especially in commercial, industrial and surveillance applications, require an extremely high resolution without sacrificing image zoom capabilities.
The new Sony FCB-ER8300, or the "Eagle", can meet the challenges of these applications. The Eagle block camera enhances image quality at 4 times the resolution of 1080 Full HD, and incorporates 20x Clear Image Zoom for crisp, clean images at increased zoom ratios.
The Sony FCB-ER8300 4K Block Camera Capabilities
Based on Sony's long history of building high quality sensors and cameras, as well as some new advancements in sensor technology, the Eagle block camera leverages enhanced sensitivity to provide improved image sharpness and color, even in low light conditions.
This Sony block camera, which already enables 20x image zoom, allows users to enlarge the image to the maximum optical magnification, then uses Clear Image Zoom technology to enlarge the image an additional 2x to produce a consistently sharp and clear image, despite the major increase in zoom ratio.
Part of what allows such high resolution at high zoom ratios is a brand-new noise reduction algorithm. This algorithm looks at hundreds of different points on an image and can automatically determine which areas need noise reduction and what level of noise reduction is needed. This algorithm can vary even on the basis of a single video frame.
Applications of 4K Resolution and High Zoom Capabilities
Machine vision applications can benefit greatly from Sony's Eagle block camera. The high resolution and zoom can allow for greater precision in machine vision inspection, particularly for small distances.
This 4K block camera is perfect for security and surveillance operations. The high resolution and zoom capabilities provide the details needed by security professionals to asses a situation correctly. Older vision systems did not allow for such precision in monitoring an area of concern.
The Sony Eagle block camera can be used in a variety of applications that require ultra-high definition. These include traffic monitoring, video conferencing, sporting events and other broadcast applications.
The FCB-ER8300 block camera produces images in extremely high resolution without sacrificing image zoom capabilities. The high-quality image at high zoom ratios provides an immersive and seamless experience for users.
To learn more about this camera, visit our product specifications page for the Sony FCB-ER8300 4K Block Camera.