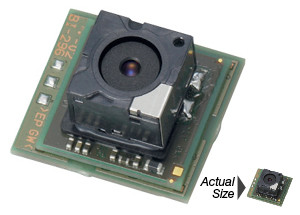 The ever-growing sophistication of today's high-end surveillance applications prompts the age-old question: "What came first, the chicken or the egg?" Is it the advances in micro HD video camera technology that are allowing more powerful surveillance systems to be developed? Or is the demand for smaller, more powerful cameras with greater flexibility resulting from a growing design need? The answer lies somewhere in the middle as manufacturers both respond to and anticipate the needs of OEMs designing high end surveillance systems.
The Sony FCB-MA130 is a powerful color block CMOS camera we often recommend to our OEM clients designing high end surveillance systems. Just slightly larger than a penny, this micro HD video camera provides crystal-clear HD 1080p resolution at 30 fps with 16x digital zoom. It is a natural fit for space-restricted applications in which HD video and high-resolution stills are critical. Measuring just 6.5 x 10.3 x 18 mm, the Sony FCB-MA130 is used for surveillance nodes, traffic cameras, tollbooth monitors and a variety of indoor clandestine surveillance applications like monitoring storerooms, warehouses, and vaults.

Boasting dynamic capabilities you would expect in a much larger camera, the micro HD Sony FCB-MA 130 video camera offers many powerful features that enhance its capabilities and broaden its range of applications, including:
Wide dynamic range capabilities for increased video and still image range while minimizing overlap in multi-camera settings
State-of-the-art face detection technology ideal for high security applications such as identification of a person of interest after the fact
Auto-focus that makes it so easy for operators to interpret video/images and identify key elements
Ability to resolve objects as close as 100 mm, making it ideal for low-light settings both indoors and outdoors, as well as close quarters like closets and sheds.
Sony has successfully packed a lot of great features and capabilities into this powerful little unit about the size of your fingertip. A perfect fit for high end surveillance systems because of its size and flexibility, the Sony FCB-MA 130 is an excellent choice for applications that require the highest performance in really small spaces and in less than optimal lighting conditions.
Explore our entire lineup of SONY machine vision cameras.