Stream Live Video With SONY PTZ Camera Bundle

Now it is simple as pie for even the rank amateur to stream live video with ease with two cost saving, convenient, and easy–to-use PTZ camera live production packages from SONY.

Featuring the SONY SRG-300 SE PTZ camera, which is available in black (choose package MCS8MBNDLSE) or white (choose package MCS8MBNDLSEW), the RM-IP10 remote controller, and the MCS-8M compact audio video mixing switch, these bundles are ideal for medium to large venues, such as classrooms, auditoriums, and sanctuaries.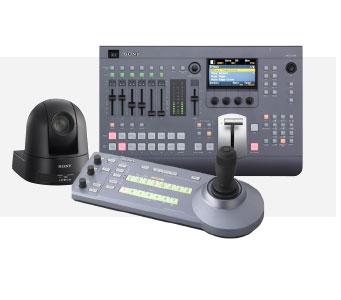 SONY Exmor Sensor For High Quality Images

Equipped with SONY's latest Exmor CMOS sensor, the SRG-300 SE PTZ camera delivers high quality 1080/60p images with a 30x optical zoom. The camera is designed to meet demands for capturing and streaming live video content simultaneously over IP and 3G-SDI.

RM-IP10 Remote Controller

Control the SRG-300 SE PTZ (pan-tilt-zoom) camera using the convenient optical three-axis joystick remote controller included in the package.

MCS-8M Compact Audio Video Mixing Switcher
Compact and user-friendly, the MCS-8M audio video mixer is ideal for the novice operator or as a companion to larger switchers. The unit features a built-in audio mixer, frame synchronizer, DME wipe patterns, multi-viewer and more.

SONY has done a great job with these high quality, versatile and easy-to-use video capturing and live streaming bundles. These cost effective packages have what you need, affording you flexibility with ease of operation and the ability to get up and running quickly.