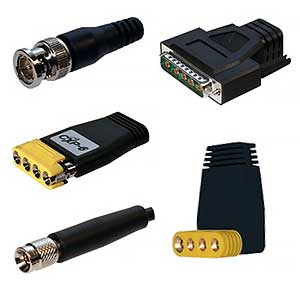 Machine vision systems have changed dramatically since FireWire, CameraLink, USB and other vision standards were developed. While they were initially capable of transmitting image data, machine vision systems are beginning to outgrow the capabilities of these standards.
The introduction of GigE, CameraLink 2.0 and USB 3.0 have all been important milestones in the evolution of machine vision, but CoaXpress may stand the best chance at being the vision interface of the future.
What Prompted the Development of CoaXpress Cameras?
CoaXpress was specifically designed to fix the shortcomings of the original CameraLink interface, and it has effectively done this. It's versatility in imaging and video streaming is unparalleled, as is its capabilities in high-speed imaging and streaming applications.
While CoaXpress was developed to scale to the future needs of high-speed machine vision systems, it's still perfectly suitable for modern day applications too. With a variety of available cables designed with durability in mind, and unmatched high-speed capabilities, CoaXpress cameras can bring the highest levels of imaging and vision performance to a wide range of applications.
Benefits of CoaXpress Cameras for High-Speed Applications
CoaXpress cameras feature asymmetric, high-speed, point-to-point open serial communication standards with a roadmap that extends to 1200 MByte/s over a single cable. CoaXpress cameras allow video, camera control for triggering, and up to 13W of power with an off-the-shelf cable.
The evolution of CMOS sensors has created cameras with much higher potential sensitivity, speed, dynamic range and resolution. Communications standards have to keep up with this evolution in sensors, and CoaXpress cameras provide some of the highest bandwidth and throughput to keep up with rapidly evolving sensor capabilities.
Essentially, CoaXpress cameras are some of the most consistent high-speed cameras. They have reliable data transfer and power can be supplied by a single cable.
CoaXpress cameras bring many different benefits in high-speed applications. The underlying CoaXpress technology, however, makes them highly scalable to future applications and best suited for high-speed imaging.
CoaXpress is a fairly new vision and imaging interface but it's quickly gaining popularity for its performance advantages over more traditional vision and imaging standards.
To learn more, browse CoaXpress cameras from Phase 1 Technology.