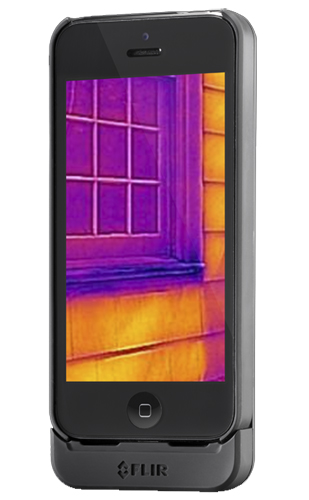 FLIR has made a name for itself as a top-quality manufacturer of thermal imaging cameras and we are proud to offer many of the company's products for sale on our website. So we were excited to learn about FLIR's newest thermal imaging product, an iPhone* case with a built-in camera that syncs with a complex app and interprets thermal data in a variety of useful ways. Unveiled at this year's CES blowout, FLIR ONE™ lets users identify and capture thermal signatures within a range of 100 meters. According to a cool video on FLIR's website, the app and camera work with the iPhone 5 and 5s*.
Like standalone thermal imaging cameras, FLIR ONE™ can pick up heat signatures from living things as well as environmental features. For something that's essentially an add-on accessory, the camera is incredibly sensitive: Depending on its users' needs and preferences settings on the FLIR ONE™ can be manipulated to identify blunt contrasts between sources of extreme heat and areas of extreme cold or paint-nuanced temperature profiles using fine-tuned degree gradients. In these finer settings, the device can clearly detect residual heat signatures left by long-gone biological or environmental sources. It can even provide accurate temperature readings of discrete objects or regions.

Perhaps most impressively, FLIR ONE™ uses multi-spectral dynamic imaging to produce detailed thermal-visual hybrid images that provide far more information than visible-light photos.

According to Engadget, FLIR spent years perfecting its nickel-sized Lepton camera. Since it's designed for use in a lightweight smartphone cover, Lepton had to be airy enough not to disturb the user's phone-handling experience but powerful enough to compete with standalone thermal imaging cameras. It also had to integrate seamlessly with the FLIR ONE™ software app.

Thus far, FLIR ONE™ has earned high marks. First-time users are likely to be blinded by its novelty and "cool factor," but the interface could actually have far-ranging practical applications. FLIR identifies some core uses:
Home management: FLIR ONE™ can fulfill relatively trivial uses like determining whether house pets enter forbidden rooms in their owners' absence or perform more important functions like detecting gas leaks and preventing heat loss.
Fire safety: FLIR doesn't advocate replacing smoke detectors with FLIR ONE™ enabled smartphones, but the device could help homeowners escape from dangerous structural fires.
Wildlife monitoring: FLIR ONE™ can be a useful add-on to a standard trail camera as well as an early detection system for hunters and campers.
Lest we forget, there's good news on the horizon for thermal imaging enthusiasts who can't be bothered to pick up an iPhone 5*: If all goes according to plan, FLIR will release an Android version of FLIR ONE™ by the end of 2014.
*Apple and iPhone are trademarks of Apple, Inc., registered in the U.S. and other countries.