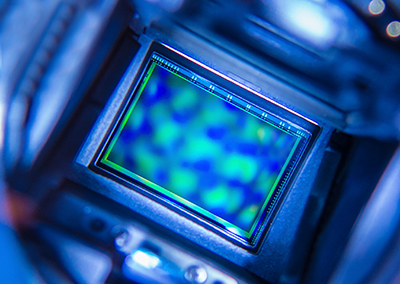 Canon has introduced a new line of CMOS sensors that may offer expanded capabilities for industrial, scientific and medical applications. These new sensors feature pixel-level innovations that point to a new level of performance for a wide variety of machine vision, microscopy, and automated imaging systems.
"Canon's CMOS sensor technology offers OEMs and end-users expanded possibilities for industrial vision applications," Canon's website announces. "From uniquely large pixel sizes to exceptionally high pixel counts in a compact design, Canon CMOS sensors push the boundaries of imaging possibilities."
Canon 120MXS CMOS Sensor
The Canon 120MXS CMOS sensor contains almost the same number of pixels as there are photoreceptors in the human eye. Its ultra-high 120 MP resolution and pixel-level innovations allow a 9.4fps readout. The sensor is available in monochrome, color, and with a specialized RGB-NIR color filter array.
Canon is generating interest for its 120MXS CMOS sensor for inspection, aeronautics, general manufacturing, documentation, life sciences, and transportation applications. Some of the suggested applications include: flat panel display inspection, intelligent traffic systems, machine vision, medical imaging, packaging and inspection, and scientific research.
Canon 35MMFHDXS_A CMOS Sensor
Canon's 35MMFHDXS_A CMOS sensors deliver an ultra-high sensitivity with a 2.76 MP resolution. The enormous 19µm pixels minimize noise and dark current. They also allow control over readout position and framerate. This makes the 35MMFHDXS_A sensors stand out with capabilities for low light imaging. These sensors are available in monochrome and color.
Canon suggests these sensors may be the right choice for defense, astronomy, scientific, life sciences, medical, industrial R & D, and high-end security and surveillance applications. The technology offers capabilities for night vision, neuroscience, fluorescence imaging, microscopy, and machine vision.
Canon 3U5MGXSBA 5MP CMOS Sensor
Canon's 3U5MGXSBA 5MP CMOS sensor includes an electronic shutter and all pixel progressive readout of 120 fps. It offers fast, distortion-free image captures. Lower power consumption and enhanced sensitivity further improve its performance. It's available in monochrome, color, and a specialized RGB-NIR color filter array.
Canon suggests that the 3U5MGXSBA 5MP CMOS sensor will open up new possibilities for the following industries: automotive, broadcasting, camera OEMs, electronics, flat panel display inspection, food, intelligent transportation systems, manufacturing, medical, military, pharmaceutical, life sciences, and printing. Canon's extensive list of suggested applications includes: automotive parts inspection, advanced driver assistance systems, robotic vision, UAVs, embedded vision, ophthalmology, and biometrics.
Canon's Game-Changing RGB-NIR and 19µm Pixel CMOS Sensor
Canon's 19µm pixel CMOS sensors with enhanced NIR detection are not available yet but they sure sound promising. Canon designed a pixel with a deeper well to allow photons with longer wavelengths to be converted more efficiently into electrons, which provides a significant increase in quantum efficiency (QE) in the Near-Infrared region. These new sensors will allow for expanded possibilities in applications that require detection in the NIR spectrum, such as aeronautic imaging, defense, machine vision, surveillance, and underwater imaging.
To learn more about Canon CMOS sensors for your industrial, medical and scientific applications, contact the imaging specialists at Phase 1 Technology.