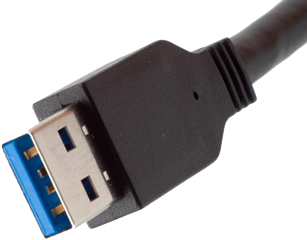 When it comes to the connectivity standards that their cameras need to function, machine vision users don't lack for options. In addition to popular interfaces like GigE Vision and Camera Link, users can also choose from other standards like CoaXPress and CameraLink HS. While GigE and CameraLink offer undeniable advantages, the new USB3 interface earns a disproportionate amount of attention from savvy machine vision users.
Released in January of 2013 and formalized by the AIA's Vision Standards Committee, USB3 was developed with input from major machine vision users and manufacturers like Basler, Allied Vision Technologies, Cypress Semiconductor and Halcon. The USB3 machine vision interface is functionally equivalent to the standard USB3 interface that's included on Windows 7 and Windows 8 PCs.

In a nutshell, USB3's effortless functionality and cross-platform compatibility make it a formidable machine vision standard. No one's saying that it's going to send other standards to the technology graveyard overnight, but it's difficult to deny that USB3 has already opened up machine vision camera interoperability in a big way. Since most USB3 machine vision users connect their devices to USB-enabled PCs, this technology doesn't require major outlays for specialized equipment. Even better, USB3 technology works with some ExpressCard slots in power-sipping PC-equivalent devices. This flexibility makes it perfect for cash-strapped departments that need to stretch existing equipment until budgeting time.
USB3 is the first AIA-certified USB machine vision standard. The importance of this is impossible to overstate: Rather than waste time with ad hoc or manufacturer-specific connectivity solutions, USB3 lets machine vision users connect to virtually any compatible device in existence. This increasingly widespread standard creates a connectivity infrastructure that's sure to foster convenience and streamline inventories. More importantly, it promises to lower costs: As with any new technology, widespread adoption will ultimately reduce the cost of the cables and accessories that make it work. No matter what USB3-compatible machine vision camera you use, this is great news.

On top of USB3 machine vision's obvious interoperability benefits, the technology offers some dramatic improvements over previous vision standards. For starters, it offers data transfers in bandwidths of over 350 MB per second and can support passive cable lengths of up to five meters. If desired, active cable extensions can be attached with minimal losses of speed.

USB3 is also compatible with GenICam, the most broadly adapted programming interface on the market. With easy plug-and-play functionality, the technology makes it easy for devices from a wide range of manufacturers to communicate in the same basic language. While a lack of prior standardization makes it impossible to guarantee that it can connect a modern machine vision camera to a device that employs an older form of USB machine vision connectivity, USB3 ports are designed to fit older Type A and B plugs. In other words, you don't necessarily have to throw out all of your old equipment after adopting USB3 machine vision technology.

While it's not the only machine vision standard on the market, the USB3 interface is certainly making waves. With its plug-and-play interface, high bandwidth and superior cable technology, the standard makes a powerful argument for itself. It also allows for easy, cost-effective connections between devices from a wide range of manufacturers. With such effortless machine vision camera interoperability, the world's first USB vision standard might soon be the gold standard for discerning users.