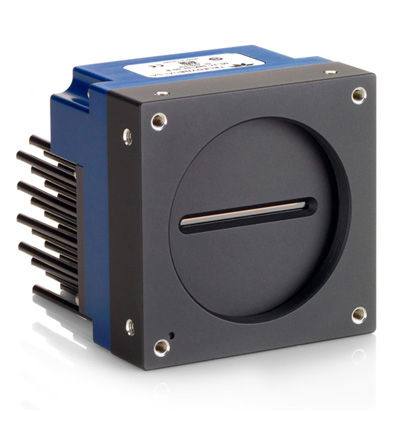 To meet the growing demands of machine vision applications, Teledyne DALSA's Linea ML 16k single line CMOS cameras are setting a new standard of high performance. And they've got an unprecedented price point to boot!
DALSA's Linea ML 16k cameras deliver the performance needed for high-resolution PCB inspection, flat panel display color filter inspection, and film and glass surface inspection. They can also be used for large FOV postal and parcel sorting, materials grading, food inspection, rail/road inspection, and inspection of pharmaceuticals. Basically, these compact, affordable cameras are great for any general machine vision application you may need them for!
Dalsa Linea 16k Features
The Linea ML camera family is based on advanced multiline CMOS technology. It's available in monochrome, color, and multispectral options. These models include an HDR (high dynamic range) mode designed to capture bright and dark scenes with improved dynamic range. With time-division multifield imaging, users can capture multiple images using brightfield, darkfield, and backlight in a single scan.
The Dalsa Linea ML 16k monochrome model operates in single or multiple rows at a max line rate of 300 kHz or 5 GPix/sec data throughput. It offers sequential exposure with independent start-and-stop integration for each row. This allows for versatile illumination configurations using the latest LED lighting technologies. The 16k color model features high-speed, high-resolution, and high-fidelity RGB native colors without any interpolation.
These cameras are also recognized for the following:
High responsivity in the visible and NIR wavelengths
Multiple user coefficient and FFC calibration sets
Independent regions of interest
Support of Camera Link cables up to 10 meters
Integration with Xtium 2 CLHS Frame Grabbers
Teledyne Dalsa Linea ML cameras offer breakthrough data throughput when paired with Xtium 2 CLHS (camera link HS) high-performance frame grabbers. This field-proven technology provides reliable, high-throughput data transmission over a fiber-optic interface. Fiber optic cables offer a lower system cost, longer cable lengths (up to 300m), immunity to EM radiation, and are ideal for industrial environments. Teledyne Dalsa's Xtium frame grabbers use the PCI-E Gen 3 x8 platform.
"The 16k model obscures the line between high-end performance and low-cost, delivering both without compromise," commented Behnam Rashidian, Senior Product Manager for Teledyne DALSA. "With the introduction of the 16k model, the Linea family offers a complete range of resolutions to benefit an ever-growing number of cost-sensitive applications."
For uncompromising performance and excellent sensitivity in demanding applications, speak with the vision experts at Phase 1 Technology about the Dalsa Linea Mono 16k line scan camera for your application.