Modern robots are perhaps the most crucial aspect of enhancing efficiency in manufacturing. Recently, Lakeview Vision & Robotics (LVR) announced a further step in robotics - decision-making through visual guidance with its new vision-guided robot.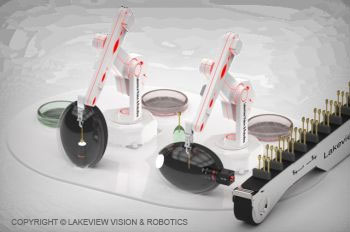 The robot incorporates an ST Robotics-brand articulated arm integrated with an Epix SV5M10 monochrome camera, featuring a 5-megapixel CMOS image sensor from ON Semiconductor. The CMOS is capable of 10 frames per second at full resolution.

The new device will focus on industrial process monitoring, automating inspection and making true decisions based on its stream of visual data. Due to its rolling shutter, it can capture a wealth of imagery for quality assurance of rotating parts.

The vision-guided robot has the capability to make multi-dimensional, high-speed measurements within a tolerance of 0.001 inches, achieving most inspections in under a minute. It can be used for multiple parts and is small and versatile: It can even sort and package parts.

LVR's "Seeing" Robot is Ready to Take on Manufacturing

After a prototype intended for the orthopedic market, the LVR system is now ready to tackle a wider range of industrial challenges. In fact, it can be adapted to virtually any manufacturing environment requiring high speed, tolerances, and quality.

One issue with many sophisticated robots is making the system user-friendly. The easier the device is to use, the easier it is to adapt to new situations and maintain calibration. LVR has kept this in mind through proprietary operating software compatible with many Windows systems.

LVR's versatile innovation is the vanguard of a new generation of vision-guided robots. It's poised to demonstrate the new pathways offering immense flexibility and cost-effectiveness of robotic labor in high-volume manufacturing environments.