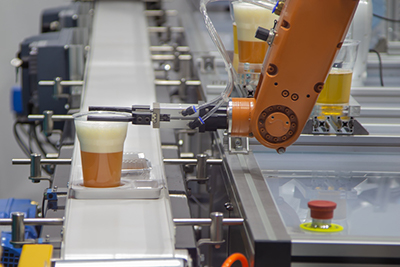 The coronavirus pandemic has left restaurant owners around the world wondering how to keep their eateries in business. Local and national regulations have forced restaurants to limit the number of customers served in the dining room. And those who don't want to risk catching the virus stay home. But vision-guided robots could be the key to safely eating out again.
What Is VGR and How Could It Save Restaurants?
Vision Guided Robotics (VGR) are equipped with sophisticated cameras and sensors that give robots the ability to "see." And not only can these robots see their surroundings, but they can use the captured images to move around their environment. For restaurants, VGR lets a robot perform tasks like cleaning kitchens, bussing tables, and even serving customers.
As restaurants reopen and ramp-up to prior capacity, they'll need to put measures in place that allow for efficiency and still keep pathogens like the novel coronavirus out of food services and delivery. Fast-casual chains like CaliBurger, quick-service restaurants in Dodger Stadium, and Pizza Hut see the potential for automation to reduce the risk of spreading the virus.
How Restaurants Are Using VGR Now
Fast food restaurants are an ideal match for automation. Since their inception, fast food restaurants have created uniform processes for every part of the dining experience from ordering to cooking to cleaning. Robots are the perfect solution for repetitive jobs. And with vision-guided robotics, robots confirm orders are correct and cooked properly.
Vision guided robots can even greet guests at the door and guide them to a table. Robots can navigate the restaurant and avoid obstacles, including busy workers. Once the customer is seated, robots can take orders and instantly send them to the kitchen. The robot picks up orders as soon as they are ready and serves them to hungry patrons.
VGR has plenty of room to grow. Vision guided robots can be programmed to learn and refine skills via deep learning algorithms and Big Data. Vision guided robots cook food consistently every time thanks to deep learning datasets. And if a restaurant wants to add a new menu item, training an automated staff is as simple as deploying an update to the cloud.
One popular vision-guided robot uses OSHA-compliant LiDAR (light detection and ranging) sensors to perform tasks right next to human workers. With 3D scanners and thermal cameras, the robot knows exactly when burgers go from raw to cooked. It can do everything from prep to cooking to cleaning. It can even work the fryer, demonstrating its versatility.
If you're thinking about adding a vision-guided robot to your automation system, you'll need a quality camera. Let the experts at Phase 1 Technologies help you find the right machine vision camera for your needs.