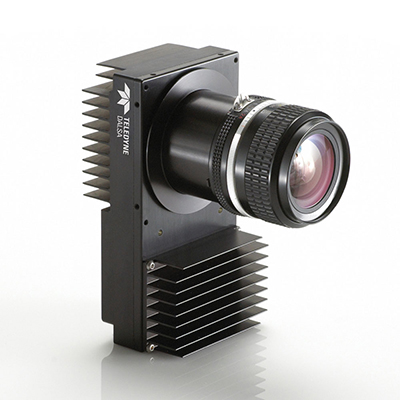 Harsh machine vision environments require lenses that have undergone ruggedization. Such lenses have special requirements that go beyond those of standard imaging lenses. Many of these ruggedized lenses are used in applications such as factory automation, robotics, and industrial inspection.
Lenses used in these applications are often exposed to shocks, vibrations, contaminants, and temperature changes. Ruggedization involves strengthening a lens to resist such harsh environments. Ruggedized lenses have become more important as emerging markets like robotics and automation have grown.
Industrial vs. Stability Ruggedization
There are two types of ruggedization, industrial and stability ruggedization. The main benefit of industrial ruggedization is cost reduction. By decreasing moving parts, the cost of the lens is reduced and the lens has greater stability than standard lenses. Focus is less affected by weak shocks and vibrations.
Stability ruggedization involves the same steps as industrial ruggedization, but in addition to removing some moving parts, the individual elements of the lens are glued in place. This helps maintain focus under strong shocks and vibrations while preventing pixel shift.
An added bonus to stability ruggedization is that calibrated devices can be built in one location and shipped to another without losing calibration.
Fujinon Lenses Get an Upgrade
Fujifilm recently announced an upgrade to their DF/HF-HA-1B series lenses with ruggedized versions. These versions maintain their existing compact design while providing the added performance benefit of vibration mitigation and shock absorption.
Fujinon Updates DF-HA-1B à Replaced By DF-HA-1S
Available in a 1/2-in format, the Fujinon DF-HA-1B C-mount lens series has been replaced by the Fujinon DF-HA-1S series featuring Fujifilm anti-shock and vibration technology. The new lens series achieves high-resolution imaging for cameras up to 1.5 megapixels. Designed for low distortion, which enables faithful image input, the lens now features locking knobs for iris and focus that allow for 3 positions each.
Fujinon HF-HA-1B à Replaced By HF-HA-1S
With the upgraded Fujifilm anti-shock and vibration technology, the Fujinon HF-HA-1B C-mount lens series has been replaced by the Fujinon HF-HA-1S series. The popular lens series maintains the same design and form factor, allowing end-users to upgrade with minimal impact to their existing system. The lens is typically used in a wide range of manufacturing environments, such as automotive, electronics, and medical. Small and compact, with an external diameter of only 29.8 mm, and covering sensors from 1/2-inch to 2/3-inch, these lenses are ideal for use in restrictive spaces.
New Fujinon CF-ZA-1S Ruggedized Lenses
Fujinon's new CF-ZA-1S series of ultra-high resolution lenses are specifically designed for precision machine vision inspection and measurement applications. Featuring Fujifilm's anti-shock and vibration technology, the lenses maintain variation in the optical axis equal to or below 10 µm without losing resolution power in challenging environments.
Equipped with a lens C-mount, the lenses are compatible with large camera sensors up to 1.1-inch and up to 2.5 µm pixel pitch. Delivering high-quality images, they incorporate Fujifilm's proprietary 4D high-resolution technology. With the world's smallest external diameter of just 39 mm for the 1.1-inch optical format, the lenses in the CF-ZA-1S series are compact. Allowing for diverse applications in challenging environments, the series offers six lens models with different focal lengths from which to choose.
For help with Fujinon lenses and the Fujinon ruggedized lens series, speak with the machine vision imaging specialists at Phase 1 Technology.