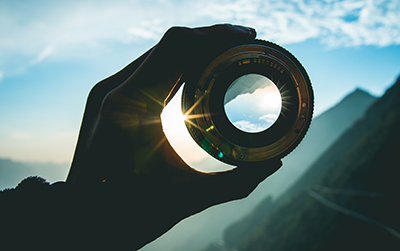 For some people, megapixel cameras are the be-all and end-all of cameras. They are of higher quality, higher resolution, and they capture more ground than analog models. We mean it: a megapixel camera can sometimes capture more on one screen than an analog camera can capture on four screens.
Yet, some people get so caught up with their megapixel camera they forget about the importance of a lens. So they buy a VGA lens, a technology with a price they already know they can afford. As they use their megapixel camera with a VGA lens, though, they don't see the results they expect. The lens begins aliasing and presenting other problems, and then they become disappointed because they expected more. What's the problem? Essentially, the VGA lens can't match the increased resolution and pixel density of the megapixel camera.
If you're looking for megapixel cameras, look for lenses for megapixel cameras. Simply put, a VGA lens won't suffice. For megapixel cameras, the focal plane spot size of the lens must be equal to or smaller than the pixel size on the sensor. Designing the lens to be equal to or smaller than the pixel size on the sensor requires more elements and more precision, which leads to more advanced yet more expensive lenses.
If the focal plane spot size of the camera lens is greater than the pixel size of the sensor, your image quality will suffer. Furthermore, the lens won't provide a full view of your sensor. Instead of crisp and expansive photos, you'll find that your megapixel camera may not have been worth it in the first place. But this isn't true; you just bought the wrong lens.
It would be best if you accounted for a megapixel lens when you're investing in a megapixel camera. Figuring out the best lens for your camera isn't always straightforward, but our experts will effortlessly find the correct match for your camera and its application. Yes, it will cost more, but it will produce the results you need. That's what it really comes down to; what do you need to get results and keep your work moving forward?
You can find the best selection of high-quality lenses for detailed imaging applications on Phase1 Technology's official site. You'll find lenses from top manufacturers, including ADL, Ricoh, and more.