Dalsa Genie Nano 2450 Polarized Camera
Part Number(s): G3-GC10-C2450
Need Help Finding the Best Camera for Your Solution?
Call (631) 254-2600
Request a Quote
Get a Quote for the Dalsa Genie Nano 2450 Polarized
Please fill out the form below to request a quote. Fields marked with * are required.
Introducing the Innovative New Genie Nano with On-Chip Polarization Technology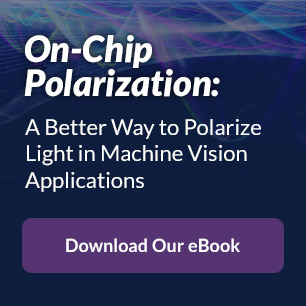 The Dalsa Genie Nano 2450 Polarized Camera is an innovative addition to the Genie Nano family. Built around the 5 megapixel IMX250MZR polarized sensor from Sony, this camera features on-chip polarization technology for simpler, more effective polarization of light. Whether it's for reducing reflections or glare, improving contrast in low light, stress inspections, or inspections of transparent objects, the Genie Nano 2450 Polarized Camera can polarize any angle of light for high quality imaging in difficult environments.
Key Features
Uses standard PC Ethernet port & hardware
Supports cable lengths up to 100 m (CAT-5e or CAT-6)
Simplified set-up with field proven Sapera LT software featuring CamExpert
Engineered to accommodate industrial environment with a ruggedized screw mount
RJ-45 connector
Programmability
Higher frame rates achievable in partial scan mode
Global electronic shutter with exposure control
Multi-exposure feature
Multi-ROI feature
Metadata support
IEEE1588 (Precision Time Protocol) support
Binning
Look-up-table and More
Reliability
Robust all-metal body
3 year warranty
Trigger to Image Reliability (T2IR) framework improves the reliability of your inspection system and protects you from data loss
Typical Applications
Electronics manufacturing inspection
Industrial metrology
Intelligent traffic systems
Regulatory Compliance
Download Product PDF:
TECHNICAL INFORMATION:
Technical Features
Total Pixels: 5 MP
Interface Speed: 1 Gbps
Bit Depth: 8 bit, 12 bit
Operating Temperature: -20—65 °C
Dynamic Range: 56 dB
Supported Lens Options: C-Mount, CS-Mount
Shutter Type: Global Shutter
Power Requirement: PoE or 10-36 VDC
Synchronisation: software trigger, free-run, hardware trigger, PTP
Exposure Control: hardware trigger, programmable via camera API, automatic
General Purpose I/O: 2 digital input, 2 digital output
Dimensions (W x H x L): 21 x 29 x 44 mm
Mass: 46 g
Spectral Sensitivity Characteristics