Dalsa Linea ML Color 8K Fiber 280 kHz Camera
Part Number(s): ML-FC-08K10T
Need Help Finding the Best Camera for Your Solution?
Call (631) 254-2600
Request a Quote
Get a Quote for the Dalsa Linea ML Color 8K Fiber 280 kHz
Please fill out the form below to request a quote. Fields marked with * are required.
Teledyne DALSA is pleased to announce the release of the Linea ML 8k Color Camera Link HS (CLHS) camera.
The new Linea ML 8k Colour CLHS model uses Teledyne DALSA's latest CMOS 8k trilinear sensor with a 5x5 μm pixel and delivers a maximum line rate of 93 kHz x 3 using CLHS fibreoptic interface. The Linea ML™ trilinear CMOS 8K and 16K color cameras exceed the requirements of demanding color imaging applications with industry leading performance. Based on Teledyne DALSA's unique CMOS line scan technology, the Linea ML trilinear cameras deliver superb color in a compact footprint with a high-speed fiber-optic interface.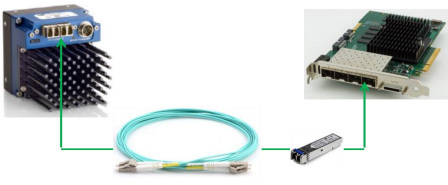 Download Product PDF:
TECHNICAL INFORMATION:
| | |
| --- | --- |
| Resolution | 8,192 x 3 pixels |
| Line Rate | 300 kHz maximum |
| Pixel Size | 5 μm x 5 µm |
| Data Format | 8-bit |
| Output | RGB color |
| Lens Mount | M58 x 0.75 |
| Responsivity | See graph |
| Dynamic Range | > 60 dB |
| Nominal Gain Range | 1x to 10x |
| Size | 76 mm x 76 mm x 85 mm |
| Mass | < 500 g |
| Operating Temp | 0 °C to +65 °C (front plate) |
| Power | +12 V to +24 V DC, Hirose 12-pin |
| Power Dissipation | 16 W |
| Control & Data | Camera Link HS, LC |
| GPIO | Direction and independent line control |
| Regulatory Compliance | CE, FCC, and RoHS |