FLIR Duo Pro R Camera
Need Help Finding the Best Camera for Your Solution?
Call (631) 254-2600
Request a Quote
Get a Quote for the FLIR Duo Pro R
Please fill out the form below to request a quote. Fields marked with * are required.
Introducing FLIR Duo Pro R, a High-Resolution Thermal and Visible-Light Imager for sUAS
FLIR Duo Pro R transforms any airframe into an industrial tool, expanding its value and uses. It is a powerful dual-sensor thermal and visible-light imager designed for a wide range of high-performance commercial, industrial, and public safety drone applications. Featuring thermal and a high-definition 4K color video camera in a single integrated package, Duo Pro R gives professional operators the ability to capture actionable thermal and visible data in a single flight.
Beyond its class-leading imaging performance, Duo Pro R includes an on-board sensor suite to create a self-contained airborne mapping package. These fully integrated sensors provide an on-board source for all the vital data needed to create accurate maps and 3D models from an airborne platform. By geo-tagging each captured image within the camera Duo Pro R eliminates the complexity, data loss, and latency that can come from integrating to external flight control systems.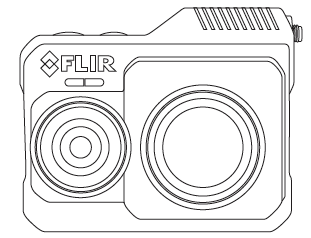 Download Product PDF:
TECHNICAL INFORMATION:
High resolution thermal and 4K visible-light imaging and recording in a rugged, compact package
Capture video & still imagery in both thermal and video simultaneously
Airborne dual sensor thermal and video imaging and recording in a single component
Wide 5-26 VDC power input range
MSX blending for greater image detail in daylight conditions
Live analog or digital (micro-HDMI) video output
Fully-integrated thermal and visible airborne mapping system
On-board GPS receiver, IMU, temperature, humidity, and altitude sensors
Tightly coupled integration for accurate image geo-tagging
Convenient integration to MAVLink-compatible flight controllers
Flexible, powerful camera control and configuration options
Multiple thermal resolution and lens options
Control camera functions with PWM inputs – imagery color palettes, recording start/stop, still image capture, or video streaming switch (thermal, visible, MSX, PIP)