Sony FCB-ER8300 Camera
Need Help Finding the Best Camera for Your Solution?
Call (631) 254-2600
Request a Quote
Get a Quote for the Sony FCB-ER8300
Please fill out the form below to request a quote. Fields marked with * are required.
Eagle - the 1st 4K Camera Block
Designed to enhance image quality at 4 times the resolution of 1080 Full HD, the new Sony "Eagle" FCB-ER8300 camera block applies the company's vast expertise in 4K to a compact, industrial camera block suited for video security, video conferencing and broadcast that delivers exceptional clarity and detail. The FCB-ER8300 features a Sony lens with a more than 70 degree field of view, a back-illuminated Exmor R™ CMOS sensor and an acclaimed image processor, ensuring that video quality remains consistently strong across all environments.
Additionally the camera block incorporates 20x Clear Image Zoom, a Sony exclusive By Pixel Super Resolution Technology, which allows users to enlarge the image first to the maximum optical magnification, then uses Clear Image Zoom technology to further enlarge the image an additional 2x, producing consistently sharp clear images despite the increased zoom ratio. Also included are industrial grade image stabilization, high-speed auto focus, ePTZ and new Noise Reduction (NR) features.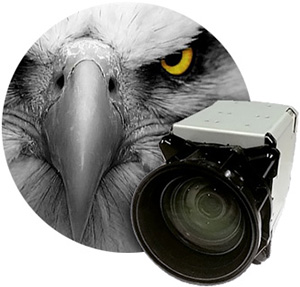 TECHNICAL INFORMATION:
Zoom : 20x (w/Clear Image Zoom)
Horizontal viewing angle : over 70º (Wide)
Supported video mode

4K/29.97p, 25p
1080/59.94p, 50p (Scaling from 4K)
720/59.94p, 50p (Scaling from 4K)