Ricoh/Pentax FL-CC-5MX C Mount Lens
Need Help Finding the Best Lens for Your Solution?
Call (631) 254-2600
Request a Quote
Get a Quote for the Ricoh/Pentax FL-CC-5MX C Mount Lens
Please fill out the form below to request a quote. Fields marked with * are required.
Available Variations:
FL-CC1218-5MX

FL-CC1618-5MX

FL-CC2518-5MX

FL-CC3524-5MX
5 Mega-Pixel Lens
(Manual Iris Lens, compatible with 5 mega-pixel cameras)
5MX Series uses JIIA (Japan Industrial Imaging Association) lens standards and satisfy S-Rank (Best Performance Class) criteria as high-performance lenses for 2/3 5 Megapixel camera. As entire field 5 Megapixel camera lenses, they capture high resolution, distortion images not just from the center to the periphery but over the entire measurement field.
Download Product PDF:
TECHNICAL INFORMATION:
Japan Industrial Imaging Association S-ranked: High MTF throughout to the edges
Floating focus mechanism ensures high optical performance over the focusing range from Minimum Object Distance (MOD) to infinity
Shorter MOD without extension rings as macro-focus lenses
Extremely low distortion
Increased accuracy of image recognition by 20% comparing with 2MP lenses according to our practical experiments at RICOH factories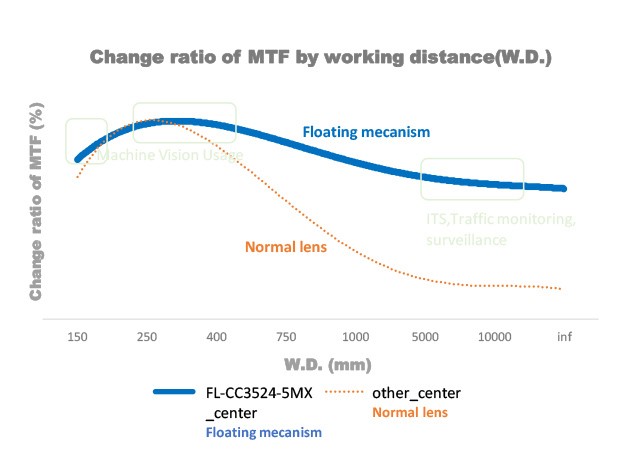 Quick Info for the Ricoh/Pentax FL-CC1218-5MX C Mount Lens

| | |
| --- | --- |
| Aperture: | 1.8 ~ 16 |
| Focal Length: | 12mm |
| Format : | 2/3 |
| Manufacturer: | Ricoh/Pentax |
| Mount: | C Mount |
| Resolution : | 5 MP |
| Ruggedized: | No |
Quick Info for the Ricoh/Pentax FL-CC1618-5MX C Mount Lens

| | |
| --- | --- |
| Aperture: | 1.8 ~ 16 |
| Focal Length: | 16mm |
| Format : | 2/3 |
| Manufacturer: | Ricoh/Pentax |
| Mount: | C Mount |
| Resolution : | 5 MP |
| Ruggedized: | No |
Quick Info for the Ricoh/Pentax FL-CC2518-5MX C Mount Lens

| | |
| --- | --- |
| Aperture: | 1.8 ~ 16 |
| Focal Length: | 25mm |
| Format : | 2/3 |
| Manufacturer: | Ricoh/Pentax |
| Mount: | C Mount |
| Resolution : | 5 MP |
| Ruggedized: | No |
Quick Info for the Ricoh/Pentax FL-CC3524-5MX C Mount Lens

| | |
| --- | --- |
| Aperture: | 2.4 ~ 16 |
| Focal Length: | 35mm |
| Format : | 2/3 |
| Manufacturer: | Ricoh/Pentax |
| Mount: | C Mount |
| Resolution : | 5 MP |
| Ruggedized: | No |