Canon 2U250MRXS CMOS Sensor
Need Help Finding the Best Sensor for Your Solution?
Call (631) 254-2600
Request a Quote
Get a Quote for the Canon 2U250MRXS CMOS Sensor
Please fill out the form below to request a quote. Fields marked with * are required.
Available Variations:
2U250MRXSAAC: Color

2U250MRXSAAM: Monochrome
250 MP Ultra High Resolution CMOS Sensor
The 2U250MRXSAA is an ultra high resolution CMOS sensor with 19568 x 12588 effective pixels. It has a size equivalent to APS-H, a square pixel arrangement of 1.5μm x 1.5μm and is available with either an RGB color filter array or in a Monochrome configuration. The 2U250MRXSAA CMOS sensor captures stunning detail 125 times greater than Full High Definition resolution and 30 times that of 4K Ultra High Definition resolution. This sensor also supports features such as single ROI windowing in both the horizontal and vertical dimensions, faster frame rates when reducing resolution, and vertical intermittent reading.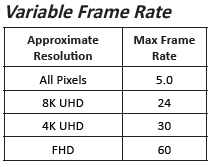 Applications
3D Metrology
Aerial Mapping
Aeronautic Imaging
Digital Archiving
Document Scanning
Flat Panel Display Inspection
Intelligent Traffic Systems (ITS)
Wide Area Surveillance
Machine Vision
Medical Imaging
Packaging & Inspection
Scientific Research
Security
Download Product PDF:
TECHNICAL INFORMATION:
2U250MRXSAAC
2U250MRXSAAM
Filter Type
RGB
Monochrome
Sensitivity
4,100 e/lx/sec (TBD)
TBD
Sensor Size
29.35mm x 18.88mm
Number of Effective Pixels
19568h x 12588v
Pixel Size
1.5μm x 1.5μm
Scan Type
Progressive Scan
Shutter
Rolling Shutter
Maximum Frame Rate (All Pixels)
5 fps
Region of Interest (ROI) Capability
1 Region Supported (Vertical & Horizontal)
Package Type
228 pin Ceramic QFP
Saturation
6000 e @0dB (TBD)
Dark Random Noise (Room Temp)
3.1 e rms @18dB (TBD)
Dark Current
6.0 e/sec @60°C (TBD)
Drive Frequency
81MHz
Output Channels
Data 16 Lanes, Clock 4 lanes
Output Format (LVDS / SLVS)
810 Mbps @ 10 bit (TBD) 972 Mbps @ 12 bit (TBD)
Analog Gain
0dB, 6dB, 12dB, 18dB
Power Consumption
(TBD)
Power Supply Voltage
1.2V, 3.3V, and 3.5V (TBD)
Package Size (External Electrodes Not Included)
43.7mm x 36.4mm x 3.97mm (TBD)
Quick Info for the Canon 2U250MRXSAAC: Color Sensor

| | |
| --- | --- |
| FPS : | 5 fps |
| Manufacturer: | Canon |
| Pixel Size : | 1.5µm x 1.5µm |
| Resolution : | 250MP |
| Scan: | Area Scan |
| Shutter : | Rolling |
| Signal : | RGB |
Quick Info for the Canon 2U250MRXSAAM: Monochrome Sensor

| | |
| --- | --- |
| FPS : | 5 fps |
| Manufacturer: | Canon |
| Pixel Size : | 1.5µm x 1.5µm |
| Resolution : | 250MP |
| Scan: | Area Scan |
| Shutter : | Rolling |
| Signal : | Monochrome |