Electronics Manufacturing & Assembly Automation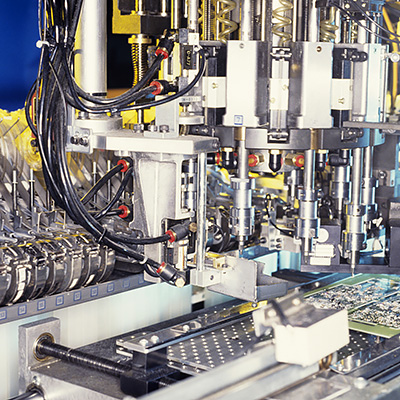 Automated electronic assembly, inspection, and measurement processes are improving exponentially as a result of innovative cameras, components, and interface technologies. Original Equipment Manufactures (OEM) and integrators are developing highly integrated automated production lines to assemble, quality control, and test, virtually all mass market electronic products. These products range in complexity from robotic controllers for the industrial sector; to cash registers used in every store we purchase goods and services from, to your new 4K consumer oriented TV. This new breed of vision systems give factories the flexibility needed to produce more products in the same plant, while enhancing quality, improving throughput, and lowering overall cost of manufacturing.
Industry standards such as GigE Vision and Camera Link continue to drive the development of faster, higher resolution cameras and components. Increasingly faster, error-free data transfer rates, feature-rich cameras with smaller profiles, and innovative lenses, and machine vision lighting are just a few of the advances benefitting OEMs, integrators and end users in this ever demanding highly competitive world of manufacturing.
Phase 1 Technology has been assisting OEMs, system integrators, and end-users with custom tailored solutions with vision components since the dawn of the vision industry. A premiere, vertically-integrated distributor since 1986, Phase 1 Technology offers you industry insight and guidance to help you understand your options and how best to achieve your specific results.
Electronics Vision System Resources
To facilitate your research, we are developing a resource center, which will be expanded and updated over time, to provide you with links to articles, discussions, and videos focused on electronics vision products, challenges, applications and solutions.
Whether you are in the design stage or planning to expand your current system, and would benefit from expert product guidance and application assistance, we encourage you to give us a call at (631) 254-2600. We're here for you.