Robotic Vision
Growth of the robotics industry in the 21st century has been unparalleled. Technology has taken us from the image of large material handling robots picking up cars and moving them around, to the first in home robotic vacuum cleaner. It is important that we distinguish between these two types of robots. They are both very much a part of the automation age we now live in, but have very different vision requirements. The first type, used in manufacturing and warehousing of products, are referred to as Industrial Robots. The type that assist us in our day to day living, are referred to as Service Robots.
Technological advances in both types of robotics are impacting virtually every industry. New markets are emerging everywhere - from the manufacturing floor to hospitals, skilled nursing facilities and rehabilitation centers, shopping malls, private homes, and disabled individuals who finally have a promise for a better quality of life. Driving these developments are increasing capabilities of robotic vision systems.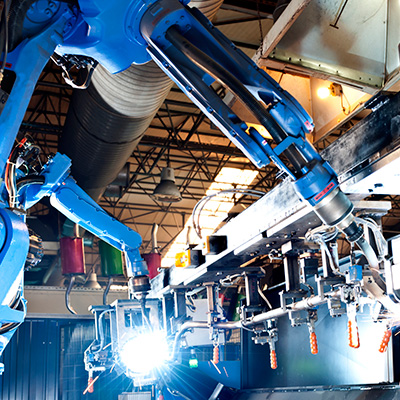 Cameras and components now offer many powerful features and characteristics that expand robot possibilities in ways that are revolutionizing how we work and live.
Faster processing speeds, higher resolutions and new camera standards such as GigE Vision, are helping robots talk to each other, as well as ourselves. Smart Camera technologies, and powerful feature-rich miniature video cameras offering full color HD, are expanding possibilities and options for Original Equipment Manufactures (OEM) and integrators looking to create new markets and applications for their customers.
Phase 1 Technology has been assisting OEMs, system integrators, and end-users with custom tailored solutions with vision components since the dawn of the vision industry. A premiere, vertically-integrated distributor since 1986, Phase 1 Technology offers you industry insight and guidance to help you understand your options and how best to achieve your specific results.
Robotic Vision System Resources
To facilitate your research, we are developing a resource center, which will be expanded and updated over time, to provide you with links to articles, discussions, and videos focused on robotic vision products, challenges, applications and solutions.
Whether you are in the design stage or planning to expand your current system, and would benefit from expert product guidance and application assistance, we encourage you to give us a call at (631) 254-2600. We're here for you.