Pharmaceutical Packaging
Automating the Pharmaceutical packaging industry requires the inspection, measurement and verification of all the various manufacturing processes within a facility. The pharmaceutical industry is being driven by stricter FDA standards, global traceability standards, and the need for higher quality control. Innovative industrial vision cameras, components, and software, along with state-of-the art interface technologies, are enabling Original Equipment Manufactures (OEM) and integrators to develop flexible automated vision systems that deliver greater accuracy, ease of traceability, faster throughput, all resulting in much higher quality.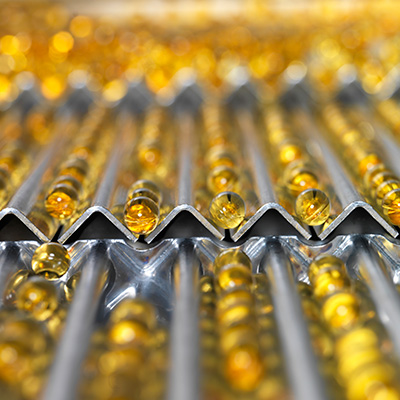 Industry standards such as GigE Vision and Camera Link, are driving the development of smaller profile, feature-rich smart cameras, area scan cameras, and Near Infrared (NIR) technologies. All of which are being deployed to automate critical processes like code validation, package integrity, fill level, surface defect, contamination, safety seal, cap integrity, labelling and content accuracy. New vision technologies are providing increasingly faster, error-free data transfer rates at higher resolutions. Innovations in lenses and machine vision lighting provide OEMs and integrators with additional tools to effectively work with reflective surfaces, packaging/bottling shapes and sizes, and graphics and text. All of these technological advances in the vision and imaging industry are aiding Pharmaceutical companies in meeting the FDA's more stringent guidelines.
Phase 1 Technology has been assisting OEMs, system integrators, and end-users with custom tailored solutions with vision components since the dawn of the vision industry. A premiere, vertically-integrated distributor since 1986, Phase 1 Technology offers you industry insight and guidance to help you understand your options and how best to achieve your specific results.
Pharmaceutical Packaging Vision Resources
To facilitate your research, we are developing a resource center, which will be expanded and updated over time, to provide you with links to articles, discussions, and videos focused on pharmaceutical and medical instrumentation vision products, challenges, applications and solutions.
Whether you are in the design stage or planning to expand your current system, and would benefit from expert product guidance and application assistance, we encourage you to give us a call at (631) 254-2600. We're here for you.