Canon 19µm Full HS CMOS Sensor
Need Help Finding the Best Sensor for Your Solution?
Call (631) 254-2600
Request a Quote
Get a Quote for the Canon 19µm Full HS CMOS Sensor
Please fill out the form below to request a quote. Fields marked with * are required.
Available Variations:
35MMFHDXSCA: RGB

35MMFHDXSMA: Monochrome
19μm Ultra High Sensitivity CMOS Sensor
The 35MMFHDXSCA CMOS sensor delivers high-sensitivity, low-noise imaging performance, even in exceptionally low-light environments. The sensor's pixels and readout circuitry employ new technologies that reduce noise, which tends to increase as pixel size increases. High sensitivity and increased well depth have been achieved through a larger pixel size of 19μm x 19μm (square) with proprietary device design technologies.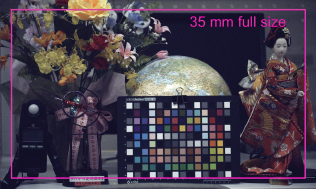 Wide Angle of View
With a full readout resolution of 2160×1280, as compared to the 1920×1080 imaging area of full HD, this CMOS sensor enables use in applications requiring large image capture areas such as astronomy. This added resolution also provides an option for a 6:4 aspect ratio (1920×1280) needed in surveillance applications and an option for a 1:1 aspect ratio (1280×1280) needed in industrial applications.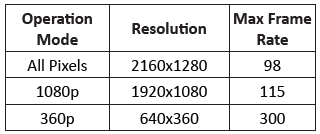 Readout Position and Frame Rate Control
The readout start position can be specified to allow flexibility in both frame rate and resolution depending on the application and required performance level. Moreover, when a high frame rate is not required, vertical blanking can reduce power consumption.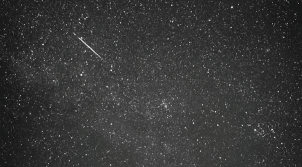 Low Dark Current
Canon has incorporated technology within this sensor to reduce dark current during long exposure times. This enables clean imaging over long exposures where only the faintest of light is present.
Download Product PDF:
TECHNICAL INFORMATION:
Filter Type: RGB
Sensitivity (Green): 1,100,000 e/lx/sec @gainx1
Sensor Size: 41.04mm x 24.32mm
Number of Effective Pixels: 2160h x 1280v
Pixel Size: 19μm x 19μm
Quantum Efficiency (Green, 525nm): 62%
Scan Type: Progressive Scan
Shutter: Rolling Shutter
Resistor Control Type: Serial Communication
Package Type: 180 pin ceramic PGA
Saturation: 61,000e @gain x1
Conversion Gain: 5.6 μV/e @gain x1
Dark Random Noise (Room Temp): 2.2e rms @gain x16
Dark Current (-20° C): 0.003 e/sec
Dark Current (Room Temp): 60 e/sec
Drive Frequency: 16 ch x 21 MHz (Recommended)
Readout: Simultaneous reading of vertical 4 lines
Output Format: 16 Channel Analog Outputs (Differential)
Column Amplifier Gains: x1, x2, x4, x8, x16
Power Consumption: 1.7W Typ. (@ all pixels readout at 98 fps)
Power Supply Voltage: 5.0 V, 3.3 V
Package Size: 60.9mm x 44.6mm x 3.57mm
Quick Info for the Canon 35MMFHDXSCA: RGB Sensor

| | |
| --- | --- |
| FPS : | 98 fps - 300 fps |
| Manufacturer: | Canon |
| Pixel Size : | 19µm x 19µm |
| Resolution : | 2.7MP |
| Scan: | Area Scan |
| Shutter : | Rolling |
| Signal : | RGB |
Quick Info for the Canon 35MMFHDXSMA: Monochrome Sensor

| | |
| --- | --- |
| FPS : | 98 fps - 300 fps |
| Manufacturer: | Canon |
| Pixel Size : | 19µm x 19µm |
| Resolution : | 2.7MP |
| Scan: | Area Scan |
| Shutter : | Rolling |
| Signal : | Monochrome |