Canon LI7010 CMOS Sensor
Need Help Finding the Best Sensor for Your Solution?
Call (631) 254-2600
Request a Quote
Get a Quote for the Canon LI7010 CMOS Sensor
Please fill out the form below to request a quote. Fields marked with * are required.
Ultra-High Resolution CMOS Sensor
The LI7010 is a 9.24MP CMOS sensor for creating 4K capable imaging solutions in normal to low light level environments. With 4112 x 2248 effective pixels and a square pixel arrangement of 6.4μm x 6.4μm in a Super 35 format, the LI7010 offers a nice balance of resolution, sensitivity, and system size. This sensor also supports features such as single ROI windowing and faster frame rates when reducing resolution, along with a low 2.7 electron dark random noise. The LI7010 is available in an RGB color filter array configuration.
TECHNICAL INFORMATION: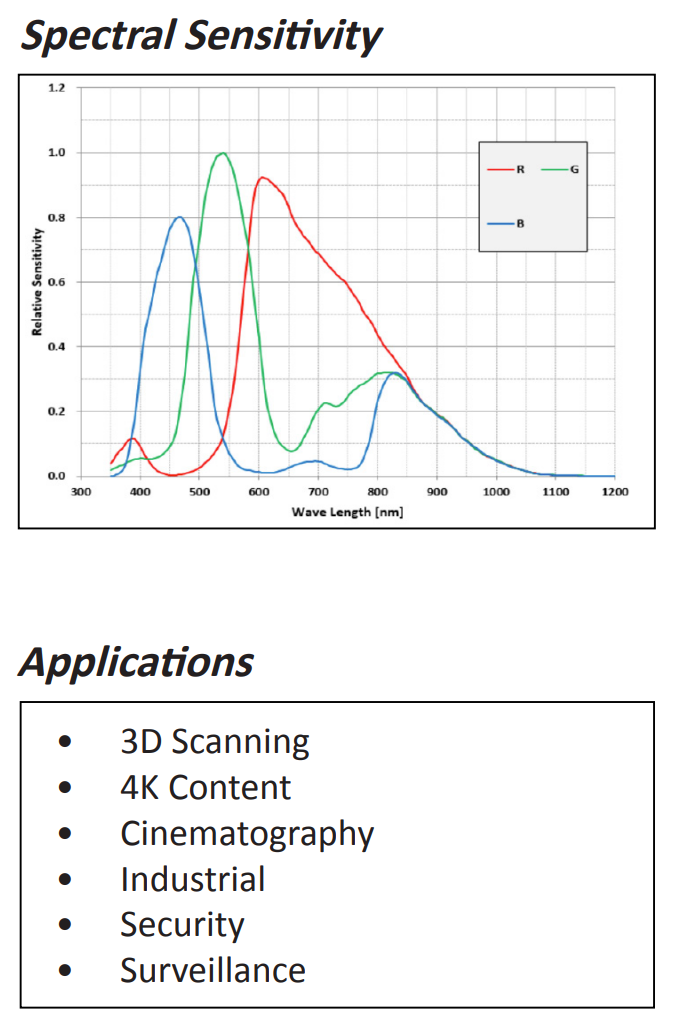 Filter Type RGB
Sensitivity: 72,000 e/lx/sec
Effective Pixel Area Size: 26.32mm x 14.39mm
Number of Effective Pixels: 4112h x 2248v
Pixel Size: 6.4μm x 6.4μm
Scan Type: Progressive Scan
Shutter: Rolling Shutter
Package Type: 154 pin Ceramic LCC
Saturation: 39,000 e @gain x1
Dark Random Noise (Room Temp): 2.7 e rms
Dark Current: 54 e/sec @60°C (package reverse side)
Drive Frequency: 72MHz
Output Channels: Data 24 Lanes, Clock 2 lanes
Output Format: 576 Mbps in LVDS output 60 fps @ 12 bit
Column Amplifier Gains: x1, x2, x4, x8
Power Consumption: 2.0W (typ.) @All pixel readout at 60 fps
Power Supply Voltage: 3.3 V, 2.1V, 1.8V, 1.0V, 0.85V, -1.2V
Package Size (External Electrodes Not Included): 46.00mm x 38.00mm x 3.59mm