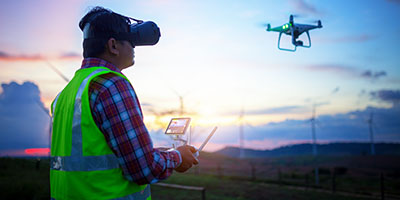 As the Information Age roars on, the human desire to collect data and integrate it into modern technology continues to grow. Drones have allowed humans to easily pay a virtual visit to remote locations that are hard to reach because of harsh environments and natural disasters. Integration with smart glasses is giving drone operators the ability to improve data collection methods with their own eyes.
Drones and Smart Glasses Offer New Ways to Collect Data
If you watch any kind of video blog, you've likely seen drone footage. You might even have seen them whirring around popular tourist spots in your community. But drones aren't just tools for photographers anymore. Industrial versions are robust, pilotless aircraft that make use of embedded vision technology to navigate their flight path.
When coupled with embedded vision, drones have the ability to "see" their surroundings. That makes them extremely useful in a wide array of applications. Emergency response crews can send drones equipped with thermal imaging cameras into areas affected by natural disasters to find victims that would be difficult to spot with the naked eye.
Other industries are using drones, embedded vision, and smart glasses to collect important data. Drones are easier to integrate with smart glasses now that microLED screens, WiFi, and LTE are becoming standard. Agricultural workers can don a pair of smart glasses to inspect crops and check up on livestock. This saves time and money as farmers and ranch hands aren't out roaming expansive tracts of land.
The mining industry has also found vision-equipped drones invaluable. Mines are capital-intensive and call for constant measurement and assessment of physical materials and equipment. Smart glasses linked to drones allow surveyors to see what the drone sees, make observations about the site, and perform inspections without entering hazardous, remote areas.
The Future of Data Collection with Smart Glasses and Drones
Pairing smart glasses with vision-equipped drones will result in a huge boost for data collection in the future. Such implementations will provide the workforce with instant access to any bit of targeted knowledge as long as it's within the drone's field of view. All this data will help manufacturers increase quality control, improve maintenance, and quickly adapt to changing market conditions.
Warehouse managers may soon put on a pair of smart glasses when it's time to inventory products. Insurance adjusters might one day use them to assess damages quickly after a hurricane hits. And it could become the norm for first responders to virtually fly to the rescue, find victims, and help rescue crews navigate to the right place.
Are you ready to improve your data collection methods? Then contact the vision experts at Phase 1 Technology Corp. and request information about which camera or embedded vision solutions are best for your next data collection project or upgrade.