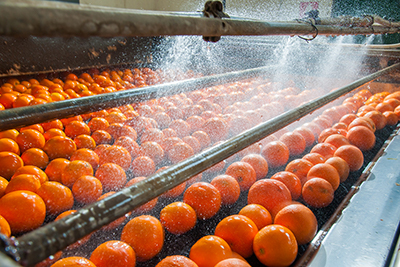 As food processing facilities grow and increase efficiency, a single production run affected by an outbreak of E. coli or some other contaminant can affect tens of thousands of customers or even more. To avoid public backlash, meet government regulations, and save as much product as possible, food producers have rolled out systems capable of 100% traceability.
Food and Beverage Machine Vision Applications
To deploy systems that can trace production from the farm to the shelf, food producers use machine vision for everything from barcode reading to character recognition to product inspection. The variable appearance of food products creates a formidable challenge for inspecting food quality and finding evidence of contamination.
Machine vision systems don't just scan the food. They also help to ensure the hygiene of processing equipment. The cleanliness of equipment directly impacts the quality of the products and helps to keep outbreaks limited to a specific lot. Knowing the exact state of their equipment helps food processors increase production with properly timed cleaning intervals.
IP69K Enclosures for Food Production Machine Vision Cameras
The machine vision systems used in food production must perform tasks in the harshest environments. Producers often use camera enclosures with the IP69K rating. The IP69K rating offers protection against dust, heat, and water. These enclosures offer appropriate protection for equipment that must be carefully sanitized.
Food production facilities often blast production equipment with chemicals and high temperatures to make sure contaminants are eradicated. Producers can only count on the IP69K-rated enclosure, which promises the highest level of protection based on the Ingress Protecting rating system, to keep inspection systems safe.
CEI Stainless Steel Enclosures Perform and Protect
IP69K-rated enclosures have undergone extreme testing that makes them the perfect fit for food production environments. A water intrusion test subjects the enclosure to a blast from a high pressure nozzle at 76°F water from 4-6in away at a rate of 4 gal/min with a pressure of 1160-1450 psi. The enclosure is placed on a turntable that spins at 5 ± 1 revolutions per minute.
CEI Stainless Steel Enclosures keep cameras safe with their ruggedized design but still allow for easy sanitation procedures. CEI's integrated connector design eliminates cord grips and the enclosure's round design makes for an easy washdown. Phase1 has been able to work with CEI to produce custom solutions that meet the exacting needs of its clients for food processing applications.
CEI's stainless steel enclosures come with high-quality, easy-to-replace windows to help cameras to run at peak efficiency. CEI offers options such as mounts, visors, air curtains, and filters that also meet strict rating requirements. Food producers can order complete solutions at competitive prices and are made in the USA.
Let Phase 1 show you how CEI's stainless steel IP69K rated camera enclosures offer protection and performance in your production facility's toughest conditions on our Industrial Camera Enclosures page. We also have !P67 and IP68 rated camera enclosures.