Canon 5 Megapixel Global Shutter CMOS Sensor
Need Help Finding the Best Sensor for Your Solution?
Call (631) 254-2600
Request a Quote
Get a Quote for the Canon 5 Megapixel Global Shutter CMOS Sensor
Please fill out the form below to request a quote. Fields marked with * are required.
Available Variations:
3U5MGXSBAC: Color

3U5MGXSBAI: RGB-NIR

3U5MGXSBAM: Monchrome
Global Shutter CMOS Image Sensor

The 3U5MGXSBA global shutter image sensor employs an advanced pixel design introducing drive readout and gathering structures which help significantly reduce noise, and contributing to a wide dynamic range with a power consumption of 500mW. Equipped with a 3.4μm pixel size and all pixel progressive reading at 120fps, the 2/3" sensor size with 5.33 million effective pixels (2592 x 2056) easily allows for applications in machine vision and other industrial environments where smaller size and high performance are required. It is available in RGB, Monochrome, and a specialized RGB-NIR color filter.
Low Power Consumption
Canon's proprietary circuit technology enables this sensor to perform at high frame rates while maintaining a low power consumption. With a power draw of only 500mW at 60fps, this sensor can be used for long periods of time in applications requiring battery-powered operation such as remote sensing on drones. The low power consumption also generates less heat, reducing the need to increase the size of the camera body for thermal management, allowing for more compact designs.
Region of Interest
T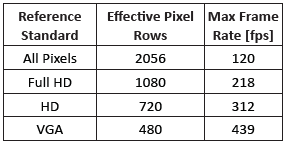 he 3U5MGXSBA can support up to 8 region of interest (ROI) areas, which can overlap, and which the size and position of each area can be independently defined to allow greater flexibility based on end user applications. By reducing the total amount of read information from the sensor, in either a single window, or throughout the maximum 8 ROI areas, the frame rate can also be increased to allow faster detection for more demanding applications.
N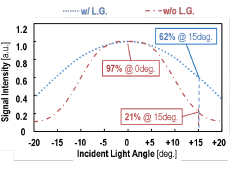 ew Pixel Design and Drive Technology
The Canon 3U5MGXSBA CMOS sensor uses a light gathering structure within the photodiode which increases its capability to convert photons from wider incident light angles. The result is a CMOS image sensor with higher sensitivity, capable of capturing high quality images even in challenging low-light situations.
Download Product PDF:
TECHNICAL INFORMATION:
3U5MGXSBAC
3U5MGXSBAM
3U5MGXSBAI
Filter Type
RGB
Monochrome
RGB-NIR
Sensitivity
30,000 (Green)
47,000
30,000 (Green)
Resolution
5 megapixels
Sensor Size
2/3 inch equivalent (8.8mm x 7.0mm)
Number of Effective Pixels
2592h x 2056v
Pixel Size
3.4µm x 3.4µm
Maximum Frame Rate
120fps
Scan Type
Progressive Scan
Shutter Type
Global electronic shutter function
Package Type
180 pin ceramic LGA
Saturation
12,000e @ Analog gain x1
Analog Gain
0 to 36dB
Digital Gain
0 to 24dB
Conversion Gain
0.28 LSB/e @Analog gain 0 dB
Dark Random Noise (Room Temp)
2.6e rms @ Analog gain x1
Dark Current
1.3 e/sec @Analog gain x1, Room Temp
Drive Frequency
36MHz(Recommended)
Output Format
Data 12 lanes, Clock 2 lanes with a maximum output of 864Mbps at 12 bit
ROI
8 Regions
Inverted Output Function
Horizontal and Vertical
Power Consumption (Type)
500mW (Typ.) Full pixel scan at 60fps
Power Supply Voltage
3.3V, 1.2V
Package Size (External Electrodes Not Included)
18.96mm x 18.10mm x 2.51mm
Exposure Control
Register setting or External Trigger
Quick Info for the Canon 3U5MGXSBAC: Color Sensor

| | |
| --- | --- |
| FPS : | 120 fps |
| Manufacturer: | Canon |
| Pixel Size : | 3.4µm x 3.4µm |
| Resolution : | 5.3MP |
| Scan: | Area Scan |
| Shutter : | Global |
| Signal : | RGB |
Quick Info for the Canon 3U5MGXSBAI: RGB-NIR Sensor

| | |
| --- | --- |
| FPS : | 120 fps |
| Manufacturer: | Canon |
| Pixel Size : | 3.4µm x 3.4µm |
| Resolution : | 5.3MP |
| Scan: | Area Scan |
| Shutter : | Global |
| Signal : | RGB - NIR |
Quick Info for the Canon 3U5MGXSBAM: Monchrome Sensor

| | |
| --- | --- |
| FPS : | 120 fps |
| Manufacturer: | Canon |
| Pixel Size : | 3.4µm x 3.4µm |
| Resolution : | 5.3MP |
| Scan: | Area Scan |
| Shutter : | Global |
| Signal : | Monochrome |