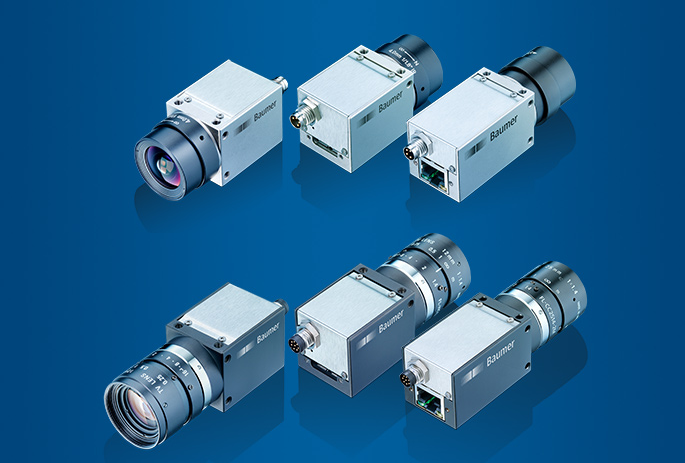 The Baumer CX and EX Camera series offer top of the line performance in a small package. With the flexibility to adapt to a wide range of industrial machine vision applications, the Baumer CS and EX camera lines will likely fit your machine vision needs.
Potential applications include assembly and material handling, robotics, measuring and inspection, medical technology, packaging inspection, track and trace, lab automation, and much more.
There are many different reasons why these cameras have become a highly desirable product in the industrial sector.
Baumer CX and EX Camera Features and Benefits
The Baumer CX and EX cameras come loaded with the latest technology. Several different features and benefits define the performance and popularity of these cameras.
1. Ease of Integration
One of the greatest features of the Baumer CX and EX cameras is their ease of integration. Their compact size allows them to fit in just about any space for inspection, measurement or other machine vision application. They come with M3 mounts on all sides, making camera integration even faster and easier. Also, they're GigE and USB3 compliant, easily fitting your resolution and bandwidth requirements.
2. Numerous Image Sensor Choices
These Baumer cameras are available with many of the most popular image sensors, including: Sony IMX174, 264, 267, 304 and the On Semiconductor 2000 and 5000 sensors. This is yet another way that Baumer CX and EX cameras provide high-performance image capture with a wide range of functionality.
3. High Quality Imaging
The Baumer CX and EX cameras, in addition to being compact and adaptable, offer high quality imaging. The cameras are capable of resolutions between 2 and 5 megapixels and 217 to 403 frames per second image capture. All of this can happen in color or monochrome at operating temperatures up to 150oF.
These Baumer cameras truly offer high performance and adaptability in a compact size. Pre-loaded with the latest technology and highly customizable, chances are there's a Baumer CX or EX camera that will be perfect for your application.
You can browse a large selection of Baumer cameras here to learn more about the technical specifications.