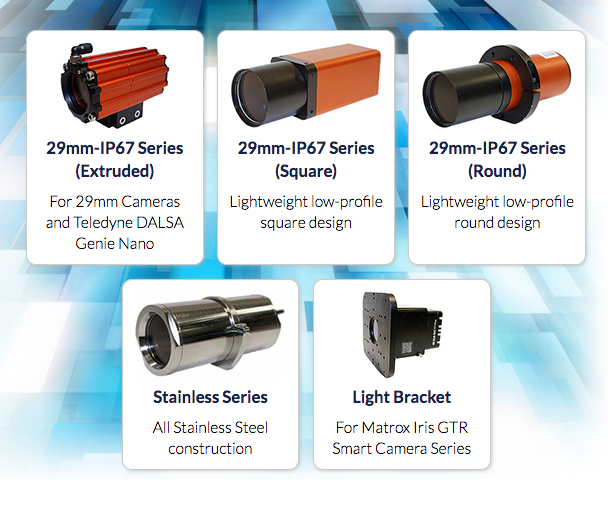 When machine vision cameras are exposed to harsh industrial environments, the integrity of imaging results, as well as the camera itself, is at risk. Industrial camera enclosures from CEI offer the ultimate protection for your machine vision investment, even in demanding environments, supporting the accurate imaging results your production relies on.
All CEI camera enclosures are lightweight with low-profile designs and built to provide excellent heat dissipation. As CEI enclosures are among the most compact on the market, they offer outstanding performance even in tight spaces.
Featuring customized mounting, along with a wide range of other customization options, CEI industrial camera enclosures are fit for nearly any machine vision application.
CEI Industrial Camera Enclosure Models
Machine vision camera enclosures from CEI come in several different models. While each are highly customizable, the parameters of your specific application will dictate which will provide the most value for you. The most common CEI industrial camera enclosures include:
CEI 29mm-IP67 Series Extruded Camera Enclosure: this camera enclosure is built specifically for the Dalsa Genie Nano series of cameras. It features CEI's Integrated Connector Design and optics that can be changed and focused while mounted.
CEI 29mm-IP67 Series Square Camera Enclosure: with a universal design for popular 29mm camera models, this enclosure can be used in a wide range of applications and includes customization options for sizes, lengths, focusing solutions and more.
CEI 29mm-IP67 Series Round Camera Enclosure: like the square model, this enclosure houses popular 29mm camera models. An adjustable mount with 2 tapped holes and several customization options make it equipped to handle the needs of a wide range of applications.
Stainless Steel Enclosures: these enclosures from CEI are best for popular GigE machine vision cameras and feature CEI's Integrated Connector Design with no cord grips. An all stainless steel, round wash-down design offers the ultimate protection.
CEI industrial camera enclosures differ in performance parameters and the types of machine vision cameras they're intended to house. Understanding your application needs can help you determine which is best for you.
CEI industrial camera cables protect your investment in machine vision by shielding equipment from harsh environments and helping maintain a high degree of accuracy in imaging applications.
To learn more, read on about CEI industrial camera enclosures from Phase 1 Technology.