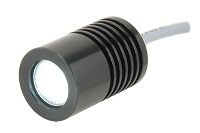 We here at Phase 1 Technology would like to take a minute to introduce you to one of our newest lighting products from Advanced Illumination, the SL 164. As part of the Ultra Bright, Spot Light family of products, this product now offers you a lighting solution in an even smaller package. This light is now available and has several applications in real world manufacturing. we would like to a moment to shine a light on what these applications might potentially be.
These lights are a perfect fit for Metrology and medical applications where space is of great importance. Imagine an automated process where throat cultures are being identified by color. In that case, you would want to have the truest possible color available. By shining one of these very high intensity lights, you would be able to clearly identify if a culture is positive or negative.

In another application, imagine a video microscope looking at a semiconductor wafer trying to verify impurities or defects on the wafer. Without the right amount of light a defect may in fact be overlooked. By putting more light on the object, we can assure proper inspection and ultimately the quality of the chips you use in your computer.

This product offers you a greatly increased illumination in comparison to what is currently in the market today. So, thanks to the SL 164 you can light up what you need and keep all previous lighting problems in the dark!
Do you have any questions? Wondering if this light would work for your application? Please feel free to contact us by e-mail at info@phase1tech.com or via telephone: (888) 732-9880