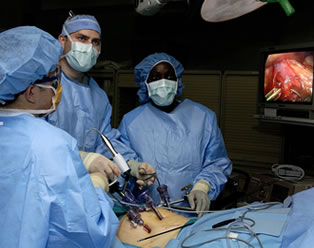 Rapid advancements in surgical technology have created a new set of expectations among surgical patients, surgeons, operating room staff members and hospital administrators. In the not-too-distant past, even routine surgeries were highly invasive affairs that left patients vulnerable to nasty infections and necessitated long recovery times. Today, surgical candidates hold doctors and administrators to far higher standards. Most routine surgeries, and even some rare or complex procedures, can be completed using cutting-edge laproscopic techniques that require much smaller incisions, produce far less follow-up pain, and dramatically shorten the length of recovery and rehabilitation stints.
Happily, equally impressive improvements in industrial camera technology have made it possible and cost-effective to perform such procedures in a safe, easily replicated manner. Small but powerful "head-mounted" cameras are at the forefront of this revolution. These tiny industrial cameras can be mounted to surgical heads and microscopes without affecting their maneuverability or functionality. Panasonic's remote head camera series offers a great example of the power and potential of this rapidly growing family of devices.
Small, Light, and Powerful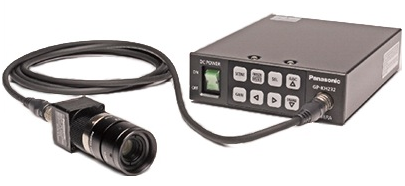 Panasonic's GP-KH232 Single Chip Full HD Remote Head Camera weighs just an ounce and occupies only a few cubic centimeters of space. Remote head industrial cameras have a number of attributes that make them ideal for use in delicate surgeries. For starters, they're extremely small and light: Panasonic's GP-KH232 Single Chip Full HD Remote Head Camera weighs just an ounce and occupies only a few cubic centimeters of space. To create clear, full-color images from inside the human body, they use high-sensitivity progressive CCDs that put out high-definition 16 x 9 images in multiple formats. Despite using ultra-efficient 1/3-inch progressives to craft these crisp pictures, the industry-leading light receiving area of each pixel produces astounding resolution and unbelievable light sensitivity.

In fact, these devices have proven indispensable for delicate operations that leave little room for error. Whether they're using three-chip or single-chip remote head devices, surgeons rely on an extremely high signal-to-noise ratio that further enhances the light receiving area of each individual pixel. This builds on 1080p/60 HDMI resolutions and ensures that even single-chip devices can support up to 900 individual TV lines. Moreover, all communication between camera heads and CCU units occurs digitally and results in minimal or nonexistent degradation. A brand new HD MOS sensor that measures just 1/3 inches and puts out three-megapixel pictures makes for even more realistic images, and a small CCU rounds out an unobtrusive, easy-to-manage setup.

Panasonic's entire lineup of remote head industrial cameras is suitable for use in just about any sensitive surgical operation.
They've successfully been used by:
General surgeons in laproscopic procedures
Ophthalmologists
Neurosurgeons
Pathologists and pathology lab techs
ENT specialists
Simply put, these high-sensitivity progressive CCDs are perfect for any intense, demanding surgical operation that requires small incisions or involves delicate tissue. When they're paired with powerful 2D or 3D monitors and a state-of-the-art operating room recording system, they create a formidable surgical setup that improves patient outcomes and reduces surgeons' stress levels.

Small, lightweight, immensely powerful industrial cameras like Panasonic's Single Chip Full HD Remote Head Camera have made many surgical procedures safer, more accessible and more cost-effective. While their incredible light-receiving capabilities make them a natural choice for internal surgeries, their adaptability and reliability ensure that they won't fail at critical junctures. As medical technology continues to advance at a breakneck pace, industrial camera developers are sure to crank out more high-sensitivity progressive CCD devices that reduce costs and save lives.