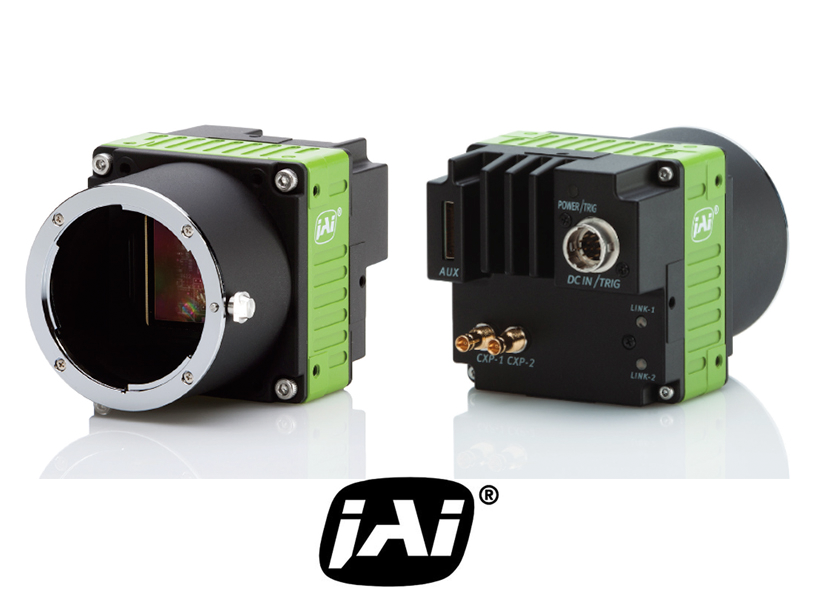 The JAI Spark Camera Series is an innovative lineup of industrial cameras, built to go where other machine vision cameras can't. JAI Spark Cameras advance the market in many different ways.
These cameras offer high resolution and extremely high frame rates in a compact size for a number of different settings. JAI Spark Cameras are available in several different models to accommodate cost and quality needs.
JAI SP-1200-CXP4 Camera Features
The JAI SP-1200-CXP4 camera is one of the highest performing Spark cameras. Its resolution and frame rates are unparalleled within the Spark Series of industrial cameras.
Available in color and monochrome, these cameras feature 12 Megapixel (MP) CMOS sensors and a CoaXPress 4-connector interface.
The JAI SP-12000-CXP4 delivers a super-fast frame rate of 188 frames/s in full 12 megapixel resolution at 8-bit. This is the fastest frame rate of any comparable 12 megapixel CMOS camera currently available.
The CMOSIS 12MP CMOS sensor (CMV12000) is incorporated into color and monochrome versions of these cameras, featuring 4096 x 3072 pixels resolution, 5.5 µm square pixels and global shutter technology for fast and high quality imaging.
At 60 x 60 x 127.5 mm, the JAI SP-1200-CXP4 cameras are extremely compact, especially when considering all of the proprietary image enhancing features that comes with them, and are actually some of the smallest industrial cameras on the market.
Typical Applications for JAI Spark Cameras
While the JAI SP-1200-CXP4 cameras represent the highest performing Spark cameras, all Spark cameras are built to provide comparably high resolution, fast frame rates and a compact build.
With these features in mind, JAI Spark cameras are typically good in electronic and semiconductor inspection as well as photography and traffic surveillance in dynamic environments. Any application where space is limited and high sensitivity is needed, such as mobile applications, the JAI Spark cameras will be a perfect fit.
JAI Spark cameras incorporate a ton of features for high resolution imaging with extremely fast frame rates, despite the compact build. The JAI SP-1200-CXP4 cameras are a particularly high performing set of machine vision cameras, but all JAI Spark cameras are made for superior performance in situations where other cameras would fail.
To learn more about these cameras and get a deeper dive into the technical specifications, browse Phase 1 Technology's offering of JAI Spark Cameras.