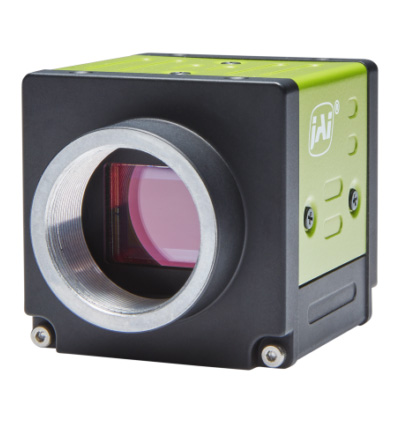 JAI recently announced the release of a new machine vision camera for high-speed imaging: the SP-12400-PMCL. This is the second Pregius-based 12.4 megapixel Spark Series camera, but it has several key differences when compared to previous Spark Series cameras.
The SP-12400-PMCL camera leverages the Camera Link machine vision interface for higher bandwidth and data reliability. This, in combination with the Sony PregiusTM IMX253 CMOS image sensor, allow for high frame rates at 64.6 frames per second, which is approximately 7x higher than the SP-12401-PGE camera model.
JAI SP-12400-PMCL Machine Vision Camera Applications
Available in monochrome and color versions, the JAI SP-12400-PMCL machine vision camera can be used in a number of different applications. The Sony sensor offers high quality, low-noise imaging performance with high resolution.
Some common applications of the JAI SP-12400-PMCL include:
Inventory or logistics robots
Facial recognition
Mapping/street views
Metrology
Life sciences
Virtual/augmented reality
Traffic applications
High resolution outdoor surveillance
The JAI SP-12400-PMCL's high throughput, resolution and speed make it an excellent imaging solution in a wide range of applications.
JAI SP-12400-PMCL Technical Features
The SP-12400-PMCL is approximately 50% smaller than previous Spark Series camera models, with a volume of 44 x 44 x 44mm, and consumes only 5.1 – 5.2 watts of power. Despite its small size, this camera can withstand rugged environments, including exposure to shock and vibration.
The SP-12400-PMCL allows for multi-ROI function – up to 64 different regions can be defined – far more than GigE versions of Spark Series cameras. This version also features reset continuous triggering (RCT), which allows capabilities such as auto-exposure, auto-shutter, or auto-gain, to continuously react to varying light conditions to ensure proper exposure is always achieved.
The JAI SP-12400-PMCL machine vision camera is a high-speed camera suited for a number of demanding purposes. With a small, rugged form factor along with high resolution, this powerful camera is packed with imaging features.
To learn more about the latest addition to the Spark Series, read more about the technical features of the JAI SP-12400-PMCL from Phase 1 Technology.