Like the PL-D684, PixeLINK's PL-E422C microscope camera provides high-quality images with publication in mind. With additional features like time lapse capture, this board level area scan camera proves that where there is a tool, there is a way – especially when it comes to high-performance, low -cost microscope imaging.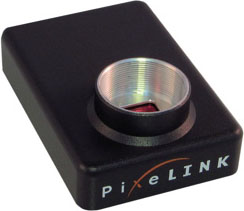 Sensitivity & High Quality

The PL-E422C's 1/2.5-type CMOS sensor enables 20 frames per second and full image resolution. The 1.9 megapixel color sensor also incorporates a 3.2 µm pixel pitch and 60 db dynamic range. While its rolling shutter further increases image sensitivity, the USB 2.0 interface makes connectivity easy to maintain image quality over a variety of outputs. Altogether, these features make this high resolution camera the perfect tool for life sciences applications.

Fearsome Features

Like many of PixeLINK's range of microscope cameras, the software makes the PL-E422C a fearsome tool. In particular, the professional image measurement software offers live measurement and overlay settings, including a 64-bit application for Windows that enables tools like crosshairs or grid masks during live previews. Furthermore, this model provides time-lapse capture through TIFF, BMP, and JPEG image formats and AVI, MPG, MPEG, and MOV video files.

In short, PixeLINK's PL-E422C microscope camera has the features and image quality required for laboratory and Life Sciences applications.

Our PixeLINK Microscope Camera Up-Close series now turns to the fast and flexible PixeLINK PL-A622.