As poet T.S. Eliot once noted, "Only those who risk going too far can possibly find out how far they can go." Smart Vision Lights knows the importance of reaching far to develop innovative machine vision lighting solutions. As a leading manufacturer of high-brightness LEDs, Smart Vision's products are designed to meet increasingly demanding and ever-changing industrial application illumination needs.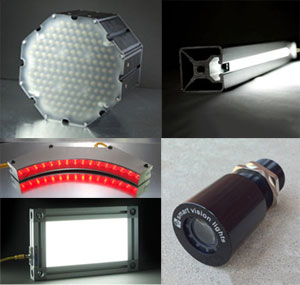 Recent Innovations

Smart Vision's products are not only some of the most ingenious on the market, but also the safest thanks to their in-house light-testing laboratory. Their recent innovations include:
The Linear High Power (LHP) line scan light is the world's brightest, with over 5 million lux and exclusive polarization.
The T-SLOT LED light series' diffusing optics double performance with low-cost and low-energy fluorescent replacements.
The new LE Series of sealed lights provides convenient aluminum extrusion T-slot mounting within a sleek and robust IP-65-rated housing.
A Drive for Success

Each light includes the powerful Multi-Drive universal current-control driver for constant or strobed operation. This internal component fuses constant output with Smart Vision's overdrive mode and relies upon a microprocessor to ensure maximum intensity. This protects the light, ensuring it delivers long-life and reliable performance. Additional benefits include ease of installation and a reduction in wiring requirements.
Smart Vision Lights is a proven thought leader in industrial and machine vision lighting solutions. The company's forward-thinking and innovative products continue to deliver improved, more intense illumination for a wide array of machine vision lighting applications.