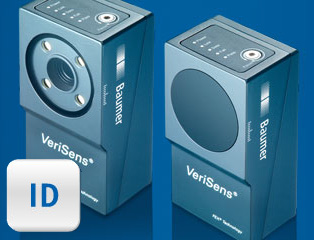 With a 1/3-type CMOS vision sensor that achieves 752 x 480 resolution and boasts an integrated 10 - 16 mm lens with white light illumination, the Baumer VeriSens ID series of monochrome smart cameras is the ideal choice for identifying bar codes, including GS1, and matrix codes. The ID-110 model is also capable of reading and verifying human-readable printed text, known as optical character recognition (OCR) and optical character verification (OCV).
Unlike conventional sensors that require font training, the ID Series does not require time-consuming font training during setup and configuration, which means faster, more convenient deployment. Additionally, everything that's necessary to begin capturing and processing images is included with the sensor itself. After an intuitive, one-time PC configuration, ID Series devices are ready to begin work.

Other ID Series features include:
Fast, intuitive PC configuration via 10-Base-T or 100-Base-TX Ethernet
Five digital I/Os or three digital outputs and RS485 (ID-100)
Built-in LED illumination
Rugged IP-67 metal housing for harsh industrial environments
The next post will focus on the Baumer VeriSens XC Series of smart cameras for machine vision.

You can also check out the post on the CS Series as well as an overview of the Baumer VeriSens family of smart cameras.