In the previous article, we introduced you to the performance, convenience, and value of the recent DALSA Linea monochrome line scan camera series. Not only are these cameras an important entry point into DALSA's high performance imaging technology, but their rich set of features also proves that good things come in small packages. With simplified systems and integration, the Linea series ensures optimal performance for applications in automated inspection, security, sorting, and general machine vision.

Integrated Imaging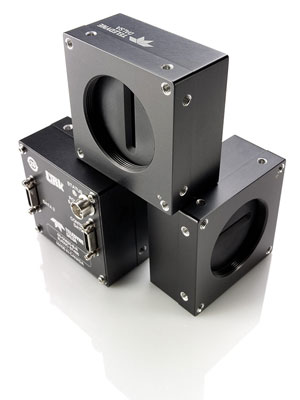 On top of the standard CameraLink and GigE networking options, all models are designed for easy set-up and integration, including GenICam™ compliance. These cameras use a graphical user interface like DALSA's Sapera™ configuration utility Camexpert to optimize integration. All members of this line also prevent data loss through control and monitoring of image capture - from trigger to memory through Linea's trigger-to-image reliability framework. When combined with overall energy-efficient designs, this line scan camera series is able to maintain inspection and machine vision reliability while minimizing costs, cabling complexity, and potential thermal issues.

Big Possibilities in a Small Package

Yet, it is the diverse array of features incorporated within each compact camera that makes the Linea series stand out.
A Cycling Mode adapts operating parameters to specific applications, with up to five configurations and unique exposure, gain, lighting, and more per line.
For GigE models, Burst Mode boots the high speed sensor by capturing and buffering through faster bursts than GigE technology alone would allow.
HDR Imaging also simplifies lighting and ensures equal information gain for bright and dark areas through the fusion of short and long exposure times.
The Linea series also minimizes data, transfer, and processing loads through Multiple Regions of Interest (ROI) that boost performance and reduce system complexity.
Each of these features in turn helps minimize system costs through greater simplicity that makes each line scan camera in the Linea series an ideal tool for machine vision.

The fusion of simplified integration and system complexity makes these line scan cameras especially powerful for a variety of applications. With overall robust builds, precision manufacturing, and resultant durability, the DALSA Linea series thus delivers bigger returns on your investment and a big value in a compact package.